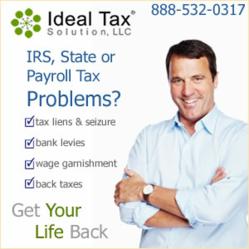 The IRPAC represents a great way to not only stay informed, but actually have impact on various tax administration issues.
Costa Mesa, CA (PRWEB) April 10, 2013
Ideal Tax Solution, LLC is alerting taxpayers and clients that nominations for up to eight appointments are currently being accepted for terms beginning in January 2014. Members represent the taxpaying public are appointed by the IRS commissioner. The 2014 IRPAC committee will consist of 21 members.
The IRPAC presents an annual report to the Commissioner at a public meeting in the fall. IRPAC members come from diverse backgrounds and are appointed to three-year terms. The terms are staggered which allows for approximately one-third of the panel to change every year. Ideal Tax Solution actively encourages taxpayer involvement in monitoring and administrating tax regulation issues.
"When people contact us for information on how to become more in tune with IRS activities, we always inform them about IRPAC," says Sam Price, a senior tax analyst at Ideal Tax Solution. "The IRPAC represents a great way to not only stay informed, but actually have impact on various tax administration issues."
IRPAC members come together from all walks of life, including professional tax resolution companies like Ideal Tax Solution, state tax administrations, colleges and universities, small and large businesses, insurance companies, banks, foreign financial institutions, and software and payroll industries.
Those interested in becoming IRPAC members may be nominated by a professional organization or self-nominated. Applications must be completed by all nominees. Ideal Tax Solution is standing by to assist anyone in need of help with regard to becoming part of this very important IRS Advisory Committee.
For more information on IRPAC or any tax related issue, contact Ideal Tax Solution or visit the IRS website at this address.
For U.S. taxpayers interested in finding out more about Ideal Tax Solution and their full range of in-depth and personalized tax preparation services, or for any tax help related issue, visit them online at http://www.idealtaxsolution.com. You can also reach them by phone by dialing 888.393.5154. Good tax tips and additional information can be found on their Facebook page and by following them on Twitter.
About Ideal Tax Solution, LLC – Located in Costa Mesa, California, the company provides a full range of tax preparation and resolution services as well as reassurance to taxpayers nationwide. With more than 55 years of combined experience providing American taxpayers with federal and state income tax solutions, Ideal Tax Solution offers an experienced staff which includes Enrolled Agents, CPAs and Senior Tax Consultants who stand at the ready to help with any tax issues.