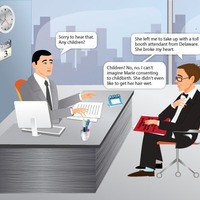 Fast Forward Academy has worked hard to make RTRP tax content fun
Orlando, FL (PRWEB) May 04, 2012
The terms "entertaining" and "taxes" don't often go together, but Fast Forward Academy is making an effort to change that with its new IRS 15 Hours RTRP CPE package. (RTRP stands for Registered Tax Return Preparer.)
Implementation of tax preparer regulation has meant that Registered Tax Return Preparers have to complete annual continuing education requirements. That requirement consists of 15 hours: 3 hours of federal tax law updates,10 hours of other federal tax law and 2 hours of ethics.
As a leader in the area of RTRP continuing education, Fast Forward Academy has worked hard to make RTRP tax content fun, and the result is even better than they could have hoped for.
Fast Forward Academy CEO, Rain Hughes says, "When we started discussing the idea of developing a program that would take the serious content related to tax returns and present it in a light, entertaining manner, I wasn't sure we'd be able to do it, but we really did. Not only is the content written in a story-like format, but we've added funny cartoons along the way to help make the IRS 15 Hours RTRP CPE program even more fun to work through. We're quite proud of what we've done with this package."
All of the courses included in the IRS 15 Hours RTRP CPE package are registered with the IRS. Students can choose from the popular 15 Hour RTRP package, Free Hours program, a la carte CPE Course menu or an unlimited 2012 membership.
The IRS 15 Hours RTRP CPE Package allows students to complete their 15 hours at their own pace, online. Content includes: Tax Preparer Ethics; Federal Tax Law Update 2012; Single—With Dependents; Accuracy & Continuity on Tax Returns; Marital Status and the Adoption Credit, Moving Expenses and Gain on Sale of Main Home; Preparing Returns with Multiple Income Sources; and Self-Employment, Education Credits and Estimating Tax.
The fee for the 2012 IRS 15 Hours RTRP CPE Package is $149.99.
Click for more information about Fast Forward Academy's IRS 15 Hours RTRP CPE programs.
About Fast Forward Academy
Fast Forward Academy, LLC provides companies and individuals around the world with the tools to help them efficiently manage their professional education needs. The name Fast Forward Academy reflects the scope of our mission-helping students and professionals accomplish more in less time. To realize this goal, we make every effort to provide the most useful and efficient exam prep material in the market place, all designed to help our students Learn Fast and Pass. Our principal focus is to supply rapid training and streamlined continuing education to professionals in the fields of taxation, securities and insurance.