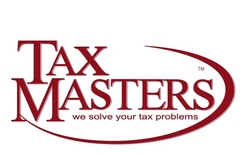 We were pleased with our overall growth in 2009 and realized early on we would need to find headquarters that could meet our current needs, while offering room for expansion.
Houston, TX (PRWEB) February 9, 2010
TaxMasters, Inc. (OTC Bulletin Board: TAXS.OB), the IRS tax relief company, today announced that the company has completed the initial phase of moving to its new corporate headquarters. The six-story, 107,000 sq. ft. facility, located at 2020 Dairy Ashford, in Houston, TX, currently houses all TaxMasters' operations staff, including TaxMasters' tax preparers, financial analysts, enrolled agents, resolution experts, case managers and client service representatives. Plans are to move the remaining company employees, including tax consultants, quality control staff and corporate management, into the new facility as soon as construction is finalized.
Coming off of a record year of growth for the company in new customers and revenue, TaxMasters secured expanded space in the fourth quarter of 2009 to house its growing staff and projected growth in 2010. The company reported an increase of 53% in its headcount in 2009, creating 107 new jobs in total in 2009.
"We were pleased with our overall growth in 2009 and realized early on we would need to find headquarters that could meet our current needs, while offering room for expansion," says TaxMasters' Founder, President and Board Chairman Patrick Cox. "We expect to grow in revenue and size throughout 2010, as we continue to see strong demand for tax relief services nationwide. As the only publicly traded tax relief firm in the United States, TaxMasters offers clients a level of service that can be tough to find in our industry. All indications are that we can look forward to continued growth in the coming quarters."
TaxMasters' new corporate headquarters, with over 100,000 square feet, will easily house the 300 plus employees currently working for the Houston, TX based company, and provides room to grow with accommodations for as many as 650 employees. The company has a five-year lease on the building, and expects to need additional space due to business growth well before the end of the lease in 2014. Because of this anticipated growth, the contract includes right of first refusal to lease space in an adjacent office building of the same size.
"As we continue to meet demand in 2010, we'll look to add additional staff to service increased case load," continues Cox. "These positions include case managers, tax preparers, and client service professionals."
About TaxMasters, Inc.
TaxMasters, Inc. (OTCBB: TAXS), the IRS tax relief company, is the first publicly traded tax resolution firm in the United States. Started by Patrick R. Cox in 2001, TaxMasters offers services and counsel to taxpayers across the country facing seemingly insurmountable tax problems, and relief from substantial federal tax debt.
Employing over 300 people, TaxMasters leverages the expertise of ex-IRS agents, enrolled agents, attorneys, CPAs, and seasoned tax consultants ready to counsel and assist every day people with their specific tax problems today.
For more information about TaxMasters, Inc. and its commitment to help taxpayers in the United States solve tax problems, please visit http://www.txmstr.com.
Follow TaxMasters on Twitter at http://twitter.com/gotaxmasters.
Forward-Looking Statements
Any forward-looking statements, as defined in the Securities Exchange Act of 1934, in this release (often identified by such words as "believes," "expects," "beginning," "intended," "planned") regarding future expectations, objectives, and plans for TaxMasters, Inc. are based on opinions and estimates of management at the time the statement was made. Various known and unknown factors may cause actual results to be materially different from the expected outcomes. TaxMasters, Inc. does not, as a matter of policy, update or revise forward-looking statements. Actual results may vary materially.
Company:
Investors/Media:
Gregory FCA Communications
Paul Johnson
610.228.2113
TaxMasters, Inc., Houston
DeWayne Logan
281.497.4226 x7000
###