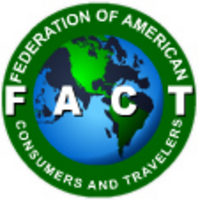 I Will Choose a Company
Edwardsville, IL (Vocus) March 10, 2010
The Federation of American Consumers and Travelers (FACT) has reported to its members that a service called "Free File" is now available from the Internal Revenue Service and its private-sector partners.
FACT says that taxpayers must go through http://www.IRS.gov homepage or http://www.IRS.gov/freefile to access the program.
Free File provides free federal income tax preparation and electronic filing for eligible taxpayers through a partnership between the Internal Revenue Service (IRS) and the Free File Alliance LLC, a group of approximately 20 private sector tax software companies.
Free File comes in two formats: (1) Traditional Free File, which is available to taxpayers who meet specific criteria, and (2) Free File Fillable Forms, which is available to almost all taxpayers.
Traditional Free File can help taxpayers identify new tax credits or deductions under the American Recovery and Reinvestment Act for which they may be eligible.
Eligibility criteria vary from one private-sector company to another, and generally are based on state residency, age, income and/or military service.
Taxpayers either can read company offers by clicking "I Will Choose a Company" or get assistance in making the selection by clicking "Help Me Find a Company." With a little information, the tool will display those company offers for which taxpayers may be eligible.
Free File is available 24-hours a day through April 15. For taxpayers who request an extension to file their federal returns, Free File will be available through October 15.
This news bulletin has been issued by The Federation of American Consumers and Travelers (FACT), a consumer organization formed under the not-for-profit corporation laws of the District of Columbia in 1984.
FACT serves more than 1 million consumers nationwide. Additional information on FACT may be found in the Encyclopedia of Associations, and by visiting the association's Web site (http://www.usafact.org).
Informative, unbiased news bulletins are regularly disseminated by FACT to help its members remain current on matters which might seriously impact their lives. The association does not offer support to -- and does not receive support from -- any political party or movement. In addition to publishing consumer-related reports, the association provides more than 30 benefits for its members, ranging from medical insurance and dental discounts to prescription drug savings and scholarships. FACT's administrative office is located at 318 Hillsboro Avenue, Edwardsville, IL 62025.
###