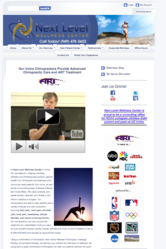 Our website is an extension of our office – an online center for learning and interaction between visits.
Irvine, CA (Vocus/PRWEB) April 06, 2011
Next Level Wellness Center, located in Irvine, provides chiropractic care, Active Release Techniques (ART), physical therapy, and massage therapy to patients in the nearby communities of Costa Mesa and Newport Beach. Current and prospective patients have access to the center's newly designed website to learn about the chiropractors, services available, and to communicate with the center's staff. Patients are also able to visit the website to download forms, take a virtual tour of the center, and make an appointment online. Additionally, the website has regular blog postings about chiropractic and wellness, and a library of chiropractic information that can be accessed by website visitors.
Dr. Vasili Gatsinaris, or "Dr. Vas" as his staff and patients call him, founded Next Level Wellness Center in 2001 to provide chiropractic care and sports therapy to patients in Costa Mesa, Irvine, and Newport Beach. Dr. John DeWitt and Dr. James Kim have joined Dr. Vas's chiropractic team, with all three Irvine chiropractors bringing sports medicine experience to the center's patients. Along with sports therapy and chiropractic care, the Next Level Wellness Center provides Irvine patients with Active Release Techniques (ART) muscle treatment, physical therapy, massage therapy, wellness and nutritional counseling, and Fenzian treatment. Patients interested in learning more about these services and techniques can access the content on the website that provides more in-depth information.
According to Dr. Vas and his chiropractic team, the website has information about the center and can be a portal of information on health and wellness. Dr. Vas said "At Next Level Wellness Center, we want to help patients achieve health and wellness with chiropractic care, Active Release Techniques, massage therapy, and physical therapy when needed. Our website is an extension of our office – an online center for learning and interaction between visits." Current and new patients visiting the website are able to select from several tabs at the top of the site to read a summary of the center's services and practices, watch a video about ART Treatment, learn about the three chiropractors, and review what patients have said under the "Testimonials" link. New patients have a dedicated tab where they can download forms to complete before their initial visit, have a virtual tour of the office, find out about how chiropractic works, what forms of payment are accepted, and patients can even make an appointment through the website.
The Center's website has several interactive features, such as the "3D Spine Simulator," the "Wellness Blog" where visitors can read and comment on posts by the chiropractors, and the Newsletter sign-up to receive information on chiropractic and wellness. Website visitors can also link to the doctors and staff at the Next Level Wellness Center through Facebook©, Twitter©, Myspace©, and YouTube©.
Patients and website visitors also have access to a library of information on chiropractic care, health care, and wellness. As Dr. Vas stated, the website is designed for learning and communication. Patients looking for information or to contact the office should visit the center's site, http://www.nextlevelwellnesscenter.com.
###