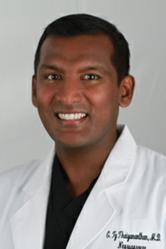 There is no more gratifying event then to have a patient say that my surgery made their life better
Irvine, CA (PRWEB) July 18, 2012
BASIC Spine would like to announce that the awarding organization Vitals.com in conjunction with PatientsChoice.org recognized Dr. "Ty" Thaiyananthan as one of the premiere physicians in his field, with the awards acting as a reflection of the near perfect scores he received on their site as rated by patients.
A reflection of his ongoing passion and commitment to both the treatment and overall well-being of his patients, Dr. Ty has received these awards for his work throughout the 2011 year.
Every month Vitals.org compiles over 200,000 patient reviews which provide online feedback regarding their experience with their physicians. These reviews consist of ratings on various aspects of the patients' experiences, ranging from the physicians bedside manner to follow-up courtesy, creating detailed reviews as well as providing insight into general opinions.
Although physicians featured on the site generally receive positive reviews from their patients, it is only the physicians that earn the highest reviews across the board that are eligible for these awards. Dr. Ty is a member of this elite group, earning ratings in the highest percentile in all categories as well as overall.
As both founder and head neurosurgeon at BASIC Spine-- with clinics in Orange and Whittier California and soon a clinic in Irvine -- Dr. Ty is an incredibly busy physician and businessman however, as evidence by his patients' feedback and the growth of his practice, Dr. Ty's preeminent focus is always his patients well-being:
"There is no more gratifying event then to have a patient say that I made their life better," says Dr. Ty. "That is what I strive to do with each of my patients."
As one of the most sought after neurosurgeons in Southern California, Dr. Ty founded BASIC Spine in the hopes of providing the most cutting-edge and comprehensive treatment for a variety of spinal conditions.
Specializing in complex, minimally invasive spinal surgeries as well as the wildly successful Stem Cell Therapy approach, Dr. Ty exemplifies the perfect cohesion of expertise and commitment to quality care.
"My goal with starting BASIC was to create a clinic that was easy to access, that was welcoming, that offered the most advanced therapies possible without overwhelming patients," according to Dr. Ty. "Our therapies define the state of the spine care and what we do at times can be complex, but our principles and approach to patient care has and will always be basic."
With rave reviews from prior patrons, a seemingly never-ending influx of new patients and two thriving clinics with a new one to come, it is no wonder Dr. Ty has been chosen to be the recipient of the 2011 Compassionate Doctor Award and the Patient's Choice Award, propelling him even further into the successful future ahead of him.