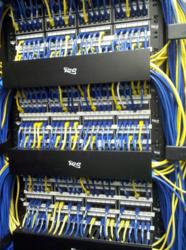 Santa Ana, CA (PRWEB) March 28, 2012
Network problems can cause office employees to replicate the scene from "Office Space, "where the employee is beating his office equipment in an open field with a baseball bat? Intermittently losing internet connection can make employees want to put the smack down on thier computer, but it could just be a connectivity problem. A loose cable connection is an easy fix as long as the user can navigate through the data closet.
Ring and Ping communications is offering separate color coding for office cables making your data closet trip a pleasant experience. Having clearly marked color coded cables can help you identify cables so you know where they should be, and help you identify any data connection issues you might experience. White would represent phone lines, blue would be reserved for your data lines and black would be for you auxiliary, like printers.
"Having separate color coding for your office cables helps IT people troubleshoot a connection problem or move remotely through issues, it is easy for people to decipher what goes where," says Ring and Ping owner Toby Gammell. He went on to say, "In most cases the color coding will help to speed up the process of moving people around the office or for troubleshooting a connection problem at the desk location or in the data closet where all the connections are made."
Ring and Ping Communications help businesses stay connected with voice and data cabling that offers flexibility and reliability. Services offered included but are not limited to: Data Network Cabling Installation Ethernet cabling) using Cat 5, Cat5e, and Cat 6 cable installation, voice / telephone, wiring and cabling installation, structured cabling design and implementation, fiber optic installation, business phone systems, Voice over IP Phone Systems, data Wiring and network installation, WiFi / wireless network installation / WLAN networking setup.
Ring and Ping Communications is a fully-licensed telecom contractor with over 12 years of network cabling experience. Technicians are prepared to work around the clock and on weekends to meet clients' project deadlines on time and on budget.
Ring and Ping Communications proudly backs their work with a 25-year factory back system guarantee on all data network cabling. They serve Orange, Riverside, Los Angeles and San Diego Counties.
To read customer testimonials showcasing their hard work and dedication and learn more about this state-of-the-art company, please visit their website http://www.ringandping.com
###
About Ring and Ping Communications
Ring and Ping Communications offers cost-effective cabling solutions for businesses from Los Angeles to San Diego, California. Through high quality workmanship and professionalism, Ring and Ping stands above the rest. Being a small company has its advantages, such as the ability to provide customers with same-day service and quick response times. Our technicians are friendly, clean, quick, and highly knowledgeable, providing clients with the security of knowing their business lifeline is in good hands. Check out our website at http://www.ringandping.com