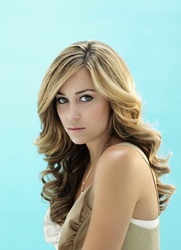 Spectrum draws sophisticated shoppers and trend-setters from my hometown of Laguna Beach, as well as Newport Beach and other areas of the region
IRVINE, Calif. (PRWEB) August 12, 2008
Conrad will debut her fall collection while kicking off Style Week Orange County with a runway show on September 8 at Irvine Spectrum Center, just a few miles from where she grew up in Laguna Beach. Her line is carried at Nordstrom at Irvine Spectrum Center.
"This is a wonderful homecoming for me, and I look forward to seeing old friends - and making new ones," said Conrad, popular star of The Hills on MTV. "Because it was so close to my home, I grew up shopping at Irvine Spectrum Center and still visit the center when I'm in Orange County. I'm excited to return to my roots and participate in the first-ever Style Week Orange County."
Located in the heart of Orange County, Irvine Spectrum Center is one of Southern California's most popular shopping and fashion destinations. The outdoor center is home to the nation's first pairing of Nordstrom and Target.
"Spectrum draws sophisticated shoppers and trend-setters from my hometown of Laguna Beach, as well as Newport Beach and other areas of the region," Conrad said.
Last year's debut of the Lauren Conrad Collection reflected the designer's beach girl lifestyle and Orange County upbringing. Her fall collection presents timeless pieces that are sophisticated and chic, to "bring out the Southern California girl in you," according to Conrad.
The week-long fashion event will feature six runway shows and dozens of in-store fashion events, designer appearances and a House of Style that visitors and fashionistas can tour. Among the events will be Adam Saaks of Ed Hardy, who will custom create his signature t-shirts for customers at Metropark, and Olympic medalist and 2008 ESPY winner Gretchen Bleiler, who is launching a line she designed for Oakley.
After the Lauren Conrad Collection launches Style Week Orange County™ on September 8, the week will continue with the hottest fall fashions from Macy's; Seventeen magazine; Marie Claire and H&M the Spectrum Collection, featuring designers from various stores at Irvine Spectrum Center; and Nordstrom, showing Fall 2008.
"We are thrilled to participate in the first-ever Style Week Orange County," said May Koby, Nordstrom Irvine Spectrum Center store manager. "Our Irvine Spectrum customers love fashion and this is a perfect opportunity to share what's in the store for the upcoming season."
Style Week Orange County also marks the first fashion show for H&M since the international retailer held a fashion extravaganza for 850 people in Central Park in 2006.
"H&M is excited to be a part of the first-ever Style Week Orange County, and Irvine Spectrum Center is a great place to showcase H&M's latest fall fashions on the runway," said Jennifer Uglialoro, an H&M spokesperson. "We love our Orange County shoppers, who are among our most fashion savvy customers."
For a complete schedule of events and more information on Style Week Orange County, visit http://www.StyleWeekOC.com or http://www.myspace.com/styleweekorangecounty.
Irvine Spectrum Center, owned by The Irvine Company, is located where the San Diego (405) Freeway and the Santa Ana (5) Freeway meet in Irvine.
Irvine Spectrum Center offers a unique mix of shopping, dining and entertainment in a beautiful Spanish-themed atmosphere, including Edwards Irvine Spectrum 21 Cinemas, Nordstrom, Macy's, Target, H&M and more than 130 other specialty stores, restaurants and other entertainment venues. For more information call (949) 753-5180 or visit http://www.ShopIrvineSpectrumCenter.com.
To download more photos, fact sheets and press releases related to the event, visit: http://www.styleweekoc.com/press/
MULTIMEDIA GALLERY http://www.businesswire.com/cgi-bin/mmg.cgi?eid=5752293