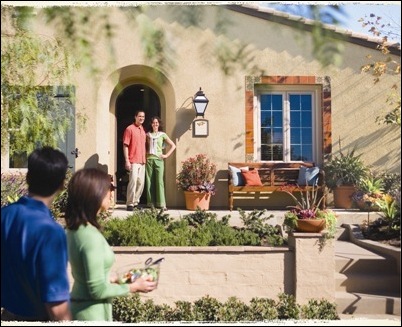 What an incredible reward for home shopping at Portola Springs Village
Irvine, CA (PRWEB) April 17, 2007
The Irvine Community Development Company invites home shoppers to its first-ever Portola Exploration Event.
The naturally scenic Portola Springs Village at Irvine Ranch® will host a fun-filled, family-oriented get together on Saturday April 21st from 11 a.m. to 3 p.m. Among the planned festivities are all sorts of children's activities organized by The City of Irvine Mobile Recreation Program, including face painting, music provided by an entertaining deejay, and even light refreshments. In addition, all participants will have an opportunity to complete entry forms at Silverado Park and at each neighborhood sales office to enter the Portola Exploration Event Contest drawing.
By providing their names, addresses and phone numbers, participants will receive a raffle ticket for every neighborhood sales office visited. The drawing will take place after the Portola Exploration Event and winners will be notified on Monday, April 23, 2007. Grand Prize is a two-night stay at the exclusive Island Hotel Newport Beach™, and a gift certificate to The Island's fine dining restaurant, The Pavilion. They'll also receive a $250 gift certificate for shopping at Fashion Island® as well as two $100 Island Hotel Spa certificates.
Additional rewards include five $100 shopping gift certificates good at Fashion Island, the Irvine Spectrum Center® and The Market Place.
"What an incredible reward for home shopping at Portola Springs Village," said Suzanne Maddalon, senior director of marketing and research for Irvine Community Development Company LLC, an affiliate of The Irvine Company LLC. "In addition to touring the model homes now selling, home shoppers attending the Portola Exploration event will experience the hometown spirit that already is apparent in Portola Springs Village. Make plans to join us next month at Portola Springs Village - and get a real feel for this new hometown in Irvine California."
Tucked away yet close to everything, the award-winning village of Portola Springs Village encompasses 1,200 rolling acres in Irvine California. The village is designed with more than 20 miles of outdoor trails, so residents can get from their door to nature in only minutes either on foot or bicycle. Among the most popular trail destinations are scenic Lomas Ridge and the Jeffrey Open Space Trail, a 325-foot-wide, 117-acre public corridor that connects The Irvine Ranch's northern and southern open spaces. A 25-acre community park will be another featured attraction at Portola Springs Village, planned to include lighted athletic fields, tot lots, picnic areas, basketball and tennis courts, and an 18,000-square-foot multipurpose building.
Silverado Park, the site of the April 21st Portola Exploration event, is nearing completion and is sure to be a popular destination this spring and summer. Facilities include a Junior Olympic-sized swimming pool, children's wading pool, bubbling spa, poolside cabanas, shade structures, a basketball court, tennis courts, barbecue/picnic areas, and a community building.
Lomas Valley, Ridgeview, Discovery, Voyager, and Village parks are also open. Throughout the village, plans call for a total of 18 neighborhood parks and gathering centers. Portola Springs Village is envisioned with up to 4,500 homes in its five distinctive enclaves. Also part of the exceptional lifestyle for residents of Portola Springs Village is the highly regarded Irvine Unified School District. The first of two proposed village elementary schools is expected to open next year. Just down the street is the brand new Woodbury Town Center, home to major retailers, shops, restaurants, banks, and other services. Currently, sales are underway in 10 Portola Springs Village neighborhoods located within the first two residential enclaves. Prices range from the low $400,000s to more than $1.3 million.
View Portola Springs Video for More Information
For additional details on the Portola Exploration event, please visit http://www.IrvineRanch.com. In addition, home shoppers can receive regular village updates by registering for the Portola Springs Village interest list on The Homefinding Center™ at http://www.IrvineRanch.com. Information also is available by contacting a Homefinding Center New Home Consultant at 866-377-2448.
About The Irvine Community Development Company
Woodbury Village, Portola Springs® Village, and the villages of Quail Hill®, Shady Canyon, Crystal Cove®, Northpark Square, and Pacific Ridge® are a part of The Irvine Ranch. All projects on The Irvine Ranch are in planned communities developed by The Irvine Community Development Company LLC, an affiliate of The Irvine Company LLC. Plan, pricing and square footage are subject to change. Models do not reflect racial preference. For more information, contact The Irvine Ranch Homefinding Center™ at 866-377-2448 between 10am and 5pm daily or visit http://www.irvineranch.com.
###