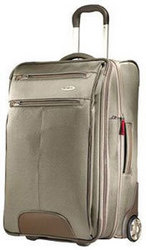 Customer comment about the Dooney & Bourke Zipper Pocket Sac: "I love it, even better than I expected. Soft leather yet thick and very sturdy for everyday use!!!"
Mount Prospect, IL (PRWEB) June 8, 2010
A silver carry-on bag, a leather laptop case, and a brown leather messenger bag. At first glance, these products might not appear to be related, yet Irv's Luggage found the common denominator: excellent customer reviews. Irv's Luggage is approaching a customer review milestone and will mark their 1,000th customer review in the next few weeks.
There is no better way to obtain unbiased thoughts from customers than to let them write whatever they deem necessary or appropriate on the company's Web site. This is what Irv's Luggage does. Irv's Luggage values its customers' opinions, and encourages them to provide feedback on any item they purchase. Perhaps it's for this reason that Irv's will earn its 1,000th customer review. People like to talk about what they purchased, and like to read what other consumers have written about a product they want to buy.
While there are hundreds of product reviews, three separate customers in particular reviewed three items and all gave great reviews of their products. The first item is a Samsonite Solana carry on bag with wheels. The purchaser said he found the luggage to be spacious and durable. The second review is about a Kenneth Cole leather laptop briefcase. The buyer stated how sturdy the laptop case is, and how it is the optimal combination of functionality and fashion. The final item is a Dooney & Bourke Calf Leather Medium Zipper Pocket Sac. This enthusiastic customer wrote: "I own many Dooneys - this one's one of my favs - carries lots without being huge - sits well on shoulder!" We couldn't have said it better!
From these reviews, the buyers at Irv's Luggage learned that these products can be trusted. Irv's doesn't tell customers what to write, so all reviews, both positive and negative, are authentic. Customers write what they experience with the product. For this reason, there is a certain degree of credibility of the product that comes with each review. As you can see from the Web site, http://www.irvsluggage.com, all reviews are posted, from 1 to 5 stars, so that customers get all the information, and not just a one-sided argument.
From there, the process is simple; Irv's looks at its reviews to help determine the dependability of the product. Often times there are multiple reviews on one product, which allows for more reliability. The reviews may affect the quantity of products Irv's buys from the manufacturer, or the final sale price of the item. Either way, customer reviews are, ultimately, beneficial for both Irv's Luggage and the customer. Irv's looks forward to receiving many more product reviews and sharing that information with their customers to help them make the right product choice.
About Irv's Luggage
As a family-owned business since 1947, Irv's Luggage and its parent company, Emporium Luggage, own and operate three retail stores in Chicago and the surrounding suburbs. With the extensive reach of the Internet, Irv's Luggage has built a thriving business serving the luggage, travel and business needs of customers throughout the United States and Internationally.
Looking for great travel advice, the latest travel wallet or an original gift idea? Visit our new Irv's Luggage Travel Blog for articles on the latest TSA regulations, airline requirements, new products and our top suggestions for traveling well. We love to hear your thoughts, so please comment on the articles you like (or don't like, if you must)! Happy travels.
###