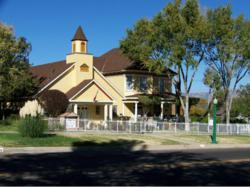 Prudential North Arizona Real Estate enlists homes for sale at Prescott Valley. All the
Prescott real estate properties are available at or within $450,000
Prescott, North Arizona (PRWEB) September 14, 2012
Prescott Valley is a popular business hub in North Arizona and is known for its cultural background as well. Citizens of this area dream to have a house in the developed location, but the dream doesn't always meet reality as Prescott real estate properties generally cost higher. Mr. Niber Mrith, owner of Prudential North Arizona Real Estate now brings the opportunity to get a house in Prescott valley within budget. The company now brings lists of Prescott Valley homes that are available within $450,000. The owner suggests that all the properties are equipped with upscale amenities and are located in developed areas. Some high-end properties are offered within the approximate range of $150 to $200K.
The owner of the company, along with other professionals arranged a press meeting to announce the news. There he said, "It is a special offer for clients that they can now purchase Prescott real estate properties at budget-friendly rates. Our professionals have personally checked the locations and other features of the properties before enlisting them. Even houses that are available under $450,000 are equally beautiful and located in best areas like the ones that are priced on a higher range."
Most of the Prescott real estate homes have 3 to 4 living rooms where clients can stay comfortably with a big family. All the houses are closer to natural views like mountain, waterfalls, hilltops, etc. There are both residential and other types of properties to avail within this rate.
Mr. Niber Mrith, the head of realtors associated with the company, also commented on this latest approach. He says, "The enlisted Prescott real estate houses are closer to everything that is required to continue with a busy life. School, markets, entertainment parks, hospitals, etc. all are very near to the properties. Thus, it is expected that clients will benefit purchasing the houses at cheaper rate"
Mr. Luther is planning to sell his Sedona real estate property and wants to buy an affordable home in Prescott. He says, "I have viewed the enlisted properties of Prudential North Arizona Real Estate and liked them a lot. Hope to get a property at a good price."
Interested buyers can speak with the real estate professionals to know about the properties in detail. Information on both commercial and residential properties is also given there in the site.
About: Prudential North Arizona Real Estate deals with Prescott and Sedona real estate. They list the latest homes for sale at affordable rates along with complete details. To know more about the organization visit http://www.irwinrealtors.com/.
Or, Refer to
Steve Irwin, Prescott Featured Homes
723 East Gurley Street, Prescott, AZ 86301
Contact Numbers
Mobile: (928) 710-8257
Business: (800) 678-3818
Business Fax: (866) 860-790