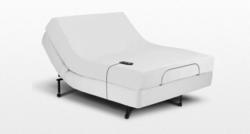 Phoenix, AZ (PRWEB) May 01, 2013
Adjustable beds have been slowly gaining popularity over the past decade due to growing demand from baby boomers and wider marketplace availability. Though many may be aware of the product, not everyone understands the potential advantages and who might benefit from adjustable base beds.
To answer consumer questions and promote education, What's The Best Bed developed an informative article titled "Is an Adjustable Bed Right for You?". The article introduces readers to the history of adjustable beds, therapeutic benefits, comfort benefits, and tips for choosing the right adjustable bed.
Explaining the origins of this type of bed, the blog details its development from the Gatch Beds invented in the early 1900s. The invention was designed to assist with patient health and healing, which transcends to modern bases as well. Therapeutic benefits identified in the article include aiding with circulation, swelling, back pain, breathing, acid reflux, post-surgery healing and more.
In addition to the health benefits, the blog notes modern adjustable beds also offer numerous lifestyle advantages. These include the ability to relax, watch television and read more comfortably, enjoy a massage, and other features like alarms and anti-snore functions depending on the model. Another benefit noted is that couples can achieve individualized positions on split bases rather than sleeping apart.
What's The Best Bed then looks at other factors consumers might use when determining if an adjustable bed would be a good purchase, such as considering one's budget, furniture, and mattress. For those considering adjustable bases, the article presents two interesting statistics from survey-based research which indicates that a significant majority of adjustable owners report satisfaction with their purchase.
To conclude the article, What's The Best Bed discusses factors like warranty and availability, as well as the results from previous product comparisons they conducted. Their top recommendations based on those comparisons include the Ergo Invincible adjustable bed from Amerisleep and the Leggett and Platt Prodigy. People trying to decide whether this product would be a good purchase will likely find the information and tips useful in their decision, and the website offers other resources on mattresses and related topics as well.
WhatsTheBestBed.org is a mattress blog dedicated to helping shoppers figure out which is the best bed for their needs. Through easy-to-read, informative posts readers can access information on top brands and a variety of mattress types provided by unbiased, knowledgeable sources. From professional assessments and consumer reviews to coverage of the latest mattress industry headlines, the website provides a wealth of resources to consumers researching beds.