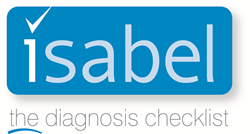 "Making Isabel available to clinicians inside of the EMR and the Isabel Symptom Checker allows for easy access where and when users want it and represents value add to them." Don Bauman, CEO Isabel Healthcare
Ann Arbor, MI (PRWEB) October 10, 2015
Isabel Healthcare will participate in the Cerner Health Conference October 11-14, 2015 in Kansas City, MO.
On the heels of the release of the Institute of Medicine's latest report "Improving Diagnosis in Healthcare", Isabel Healthcare will be featuring its suite of tools, and their integration with Cerner solutions that assist healthcare providers and consumers to potentially reduce the chance of error. The report suggests that most people will experience at least one wrong or delayed diagnosis at some point in their lives.
Isabel assists clinicians with creating or broadening their differential. Isabel is used by clinicians as part of their workflow; either standalone, integrated with the EMR, or on a mobile device. The Isabel Symptom Checker empowers consumers with the ability to ask their provider "What else could be going on?" The report suggests that several areas that can be explored include using technology like diagnosis decision support and encouraging consumers to engage in their diagnosis process. The Isabel suite is uniquely positioned to assist in all three of these areas.
"The integration of Isabel into provider tools and patient facing systems is exciting" stated Don Bauman, chief executive officer at Ann Arbor based Isabel Healthcare, "Making Isabel available to clinicians inside of the EMR and the Isabel Symptom Checker allows for easy access where and when users want it and represents value add to them."
About Isabel Healthcare
Isabel Healthcare Inc. was founded in 2000 by Jason Maude and is named after Maude's daughter who almost died after a potentially fatal illness was not recognized. For over 14 years, Isabel Healthcare has been validated and peer reviewed and is now recognized as the leader in diagnostic decision support. Isabel is the only diagnosis checklist system fully integrated with EMRs. In addition to Isabel Professional, Isabel's family of diagnosis performance solutions also include the Isabel Symptom Checker for consumers and patient engagement, Isabel Clinical Educator, a case based learning platform for clinical learners and Isabel Active Intelligence, a fully embedded diagnosis intelligence solution. Connect with us at http://www.isabelhealthcare.com, or 734-332-0612.