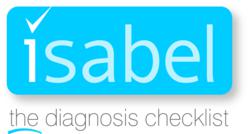 An unprecedented combination of productivity tools for the ED
Ann Arbor, MI (PRWEB) February 16, 2012
Isabel Healthcare announced today its decision to partner with Touch Medix and integrate Isabel's diagnosis decision support system with Lightning Charts emergency department documentation system to assist physicians in efficient decision making. Isabel Healthcare is the industry leader in diagnosis decision support applications, with thousands of users in North America and Europe.
"ED physicians are constantly pressed for time. Solutions that afford them more time to spend with patients will lead to enhanced productivity and patient safety," said Don Bauman, chief executive officer, Isabel Healthcare. "The partnership with Lightning Charts embeds the risk management and efficiency tools of Isabel with the unique documentation capabilities of Lightning Charts, bringing an unprecedented combination of productivity tools to the ED."
Users of the Lightning Charts tool will have immediate access to Isabel which provides two key resources to enhance the patient encounter process. First, users can get a list of diagnosis possibilities generated from Isabel based on the patient's age, gender and key symptoms received directly from Lightning Charts. Second, with one click, providers can then access detailed evidenced based clinical content about any medical condition in the checklist. Available at their fingertips is a variety of online resources, such as on-line resources, peer-reviewed journals, medical textbooks and other organizational referential resources.
"We are excited about the opportunity to partner with Isabel and bring diagnosis support to our ED physicians so they can deliver better quality care even more efficiently," said John Uphold, MD, FACEP and Chief Executive Officer of Touch Medix. "Combining access to Isabel with Lightning Charts, we are enhancing our intuitive, fast and easy-to-use solutions for physicians, nurses and other practitioners."
About Isabel Healthcare
Isabel Healthcare Inc. was founded in 2000 by Jason Maude and is named after Maude's daughter, who almost died after a potentially fatal illness was not quickly recognized. For more than 10 years, Isabel Healthcare has provided the Isabel diagnosis decision support system to hospitals, physician practices and individual physicians and has gained peer-reviewed validation and unmatched experience. Today, Isabel is the only diagnosis decision support system fully integrated with EMR and is used by thousands of physicians, nurse practitioners, physician assistants and students worldwide, providing diagnostic support and education by broadening their differential diagnostic considerations. For more information, visit http://www.isabelhealthcare.com or the Isabel Blog at info.isabelhealthcare.com/blog.
About Touch Medix
Touch Medix LLC, is a physician owned and operated company that specializes in the development and deployment of touch screen ER physician and nursing documentation solutions. Touch ED (PC based) and Lightning Charts ED (a native iPad application optimized for bedside charting) are the most intuitive, fast and easy-to-learn documentation solutions available. Charts can be created the first day with touch screen, voice activation or keyboard input. Each product contains over 1700 dynamically created templates that start complete and the physician then simply "edits-to-accuracy" producing a record that that looks and prints like the best transcribed record. These unique, feature rich documentation products ensure 100% real time compliance with CMS core measures and PQRS scores, have integrated eprescribing and can interface with all legacy systems. For more information, visit http://www.touchmedix.com or http://www.lightningcharts.com or call 877.482.4639.
###