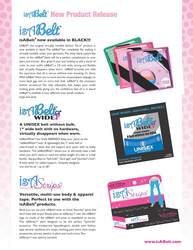 Thornwood, NY (PRWEB) June 8, 2009
While low-rise skinny jeans may be today's fashion must-have, showing of panties - or even worse - plumber's crack (gasp!) - is a major no-no. isABelt comes to the rescue, offering easy, fix-it products, to avoid any embarrassing fashion faux pas.
isABelt is a clear, virtually invisible, fashion fix-it belt that helps prevent back gap, belt bulk and pants slippage. Unlike any other product on the market, isABelt is made of strong, durable elasticized TPU that virtually disappears when put on and lies discreetly under clothes or a fashionable belt.
New offerings from isABelt include:

isABeltWide - a discreet, light weight belt in clear-frost or black that supports wearers pants without bulky belt lines. This uniquely designed belt is wider than the original isABelt at 1", boasting 50 inches to fit all sizes, but is fully adjustable downward to accommodate even a size small, for added support and the ideal unisex item to leave behind belt bulk, back gap and plumber's butt. One size fits most, sold online for $19.95. Available in clear - frosted and black.
Looking to add a touch of color to an outfit and keep pants up?.........Introducing the new isABelt Black: a shiny black, patent-like color that perfectly compliments jeans, pants and skirts. This ½ inch wide, strong and flexible belt virtually disappears when worn and leaves the wearer feeling fashionable and secure! Available in small, medium, large and plus sizes. Sold online for $16.95.
To use isABelt and isABeltWide: Simply separate straps and hold bottom strap above textured area. With other hand, pull top strap at a downward angle to shorten or lengthen the belt. Adjust both sides to desired support. Put belt through pant loops, clasp together and push belt down to base of waistband. If possible, notch under the button to secure placement of belt. (Keep in mind isABelt Does Not adjust like a bra strap. It should be a subtle "nip and tuck" for the pants.)
To keep everything in place look no further than isAStrips, transparent, hypoallergenic, double stick fashion tape that quickly secures necklines, bra straps, clothing, pant hems, shoe straps and scarves. For pants without loops, this convenient, "quick-fix" accessory can also be used with the isABelt by simply placing a strip over the isABelt logo on the inside, and pressing to the waistband to secure. Sold online for $7.50.
The original isABelt is available in small, medium, large, plus sizes in clear and black, and junior (one size fits most featuring a variety of teen-appropriate designs). Sold online for $16.95 plus shipping and handling, or is available at select retailers nationwide for under $20.
isABelt has been featured in Real Simple, Essence, People, Glamour, the Charlotte Observer, the Modesto Bee, SheFinds.com and on the Today Show and Big Idea, among others.
###