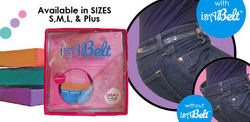 New York, NY (PRWEB) September 2, 2008
On September 5th, 2008, isABelt, the patent pending, "ORIGINAL" virtually invisible belt product, along with SoftSheen-Carson Professional (L'Oreal USA), will sponsor the spring 2009 runway presentation of Edwing D'Angelo at the Westin Hotel Times Square during Mercedes-Benz Fashion Week, where he will showcase his signature collection and utilize the isABelt with his fit models in the show.
The Edwing D'Angelo AQUATICA collection runway presentation will be held on September 5, 2008 at 5 p.m. in conjunction with Couture Fashion Week. To RSVP or to schedule pre or post-show interviews, please contact isABelt at 1-866-793-2793 or elise@isABelt.com (RSVP line)or at http://www.isABelt.com
ABOUT isABelt
The isABelt is the "ORIGINAL" virtually invisible belt. At one half inch wide, isABelt is a strong and flexible belt that virtually disappears when worn. The isABelt is the ORIGINAL fashion "fix-it" item providing comfort and the assurance that all is secure without even knowing it's there. The unique design of isABelt allows the wearer to customize the fit of the belt with the fit of the waist or hips. The isABelt is available in a range of sizes for adults and juniors. For more information visit the isABelt website, http://www.isABelt.com.
# # #