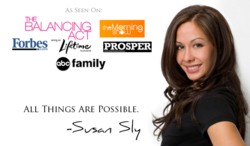 I firmly believe that we can have it all and that when we have a solid foundation of optimal health anything is possible
Kingston, Ontario (PRWEB) August 02, 2012
Author, speaker, trainer and balanced living expert, Susan Sly will attend the Isagenix ™ International Annual Conference as a guest contributor in Phoenix, Arizona.
Susan's passion for assisting women in conjunction with her own health challenges led her to partner with the billion dollar company in 2003. After renewing her health and seeing the results that others were getting, Susan decided share the message of hope that is fostered by Isagenix ™.
'I firmly believe that we can have it all and that when we have a solid foundation of optimal health anything is possible,' says Ms. Sly. 'Going through several years where I had to put my dreams on hold due to poor health, I can speak from experience. So many women and men are struggling with lack of energy, increased weight and cannot find a healthy solution to solve these problems. We are living in a toxic society and one of the keys to balanced living is to cleanse the body which inherently leads to a greater upliftment and a more positive outlook.'
To read about Susan Sly appearing on 'The Balancing Act' television show on Lifetime TV, please click here.
Ms. Sly will be leading a breakout session on Saturday, August 11, on 'How to Make Over $1,000 in The Next 30 Days' from 3:30-4:15pm.
Other guest speakers for the event include –Jack Canfield, Dr. John Gray and Paul Zane Pilzer. Susan has helped and inspired many people to live into greater health and freedom and will be recognized at the event for her contributions.
For more information on Susan Sly, please visit http://www.susansly.com/about-susan/