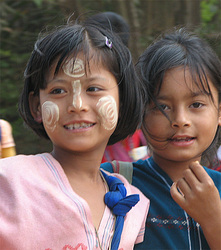 For-profit websites have been making a fortune from our mouse clicks and web surfing for years. All we're doing is using those same clicks to help the less fortunate, instead of the fortunate
Wimberley, TX (PRWEB) October 18, 2007
Isara.org is a non-profit search engine and charity organization founded in 2005 by Patrick Kirk Gillock (PK), a web designer turned volunteer teacher from the United States. Currently located in northeastern Thailand, PK has used his experience as a Webmaster to create a completely altruistic website that is able to fund Isara's projects without the need for donations.
It all began with a helmet campaign when PK found himself visiting hospitalized students who suffered preventable injuries from motorcycle accidents. PK felt that serious injuries could be avoided if local citizens were educated about the importance of motorcycle safety and were also provided free helmets. Isara's outreach continued to grow as additional needs were recognized, such as providing school supplies to orphans, aid to Burmese refugees, and building classrooms. Isara.org is the result of seeking a creative way to generate funds for these projects.
Although Isara.org is the first charity of its kind, the concept behind the website is nothing new. "For-profit websites have been making a fortune from our mouse clicks and web surfing for years. All we're doing is using those same clicks to help the less fortunate, instead of the fortunate," said PK.
Since 2005, Isara.org has created more than forty projects in three developing countries and has plans to expand into other impoverished areas of the world. That is, if their web traffic also expands.
Believing that charitable habits could become part of an everyday routine, PK decided to create a web portal users would enjoy visiting. "We're trying to make the perfect homepage. A website where visitors can search the web, play games, blog, upload photos, watch videos, and feel great knowing they're making a difference. For free."
To help encourage people to switch their homepage to Isara.org, visitors are given a choice of many popular search engines to use, including Isara's own search engine, which is currently being built using the Nutch open source platform.
Websites such as search engines typically make money by selling advertising. The more visitors a website receives the more ad revenue they make. Isara.org works in a similar fashion, however instead of advertisers, Isara.org has sponsors who contribute based on how many visitors the website receives. Most importantly, since everyone at Isara is a volunteer, 100% of sponsors' contributions go directly to the charity projects it creates. This also means 100% of visitors' clicks are making a difference.
"We want visitors to see what their clicks are accomplishing", explained PK, "which is why our projects are updated daily with photos or videos and visitors can choose to give feedback and suggestions in the Isara web forum." If visitors want real-time results, Isara.org has setup a webcam inside a classroom at the Isara Learning Center, a free school in rural Thailand teaching English and computers to children and adults.
Isara.org realizes it is not alone in the area of clicks for charity. Many for-profit search engines like Google, Yahoo, and MSN have created similar programs to help raise money for charities. But Isara.org is different in the fact that there is no middleman taking a share of revenue. Isara.org creates its own humanitarian projects so visitors can be sure that their clicks really matter.
With his non-profit alternative gaining in popularity, PK concluded by saying, "Thank you to everyone who decided to make a big difference in their world just by making a small change in their surfing habits."
For additional information, or to start making a difference today, please visit http://www.isara.org .
###