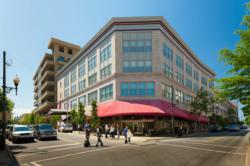 I believe that a great dining experience centers around three key elements: great food, great service and a great environment. We are excited about how the pieces are coming together. - Tony Fraga.
Asheville, NC (PRWEB) June 11, 2013
Centrally located in the beating heart of downtown Asheville's thriving food, art, and shopping scene, Isa's Bistro is now open on the corner of Haywood Street and Battery Park Avenue, just across the street from the bustling Woolworth Walk. The restaurant is connected to downtown Asheville's Haywood Park Hotel, which offers the largest guestrooms in Asheville.
Owners Tony Fraga and his wife Isabel (Isa) are excited to further enrich the Asheville food scene, offering a unique, ingredient-driven menu courtesy of seasoned Sous Chef Duane Fernandes. The refined yet comfortable atmosphere boasts one of the best outdoor dining patios in Asheville, as well as a light, airy dining room, and a spectacular wine cellar that doubles as an intimate, private event space.
"I believe that a great dining experience centers around three key elements: great food, great service and a great environment. We are excited about how the pieces are coming together," says Tony Fraga.
Cuisine à la Duane Fernandes
Executive Chef Duane Fernandes brings his culinary finesse to the table, with a menu that celebrates Western North Carolina's seasonal harvest and fresh produce in full-flavored dishes inspired by the comfort foods of Italy, France, and Spain. He also brings a thoughtful array of extraordinary desserts, including house-made truffles, and mini cakes and pies to round out the menu.
Fernandes came to Isa's from the Horizons restaurant at the Grove Park Inn Resort & Spa, and was formerly the Executive Chef of Gabrielle's at the Richmond Hill Inn. Educated at Johnson & Wales University and then the Culinary Institute of Charleston, Fernandes spent his early career honing his skills in Charleston's four-diamond Peninsula Grill and the five-diamond Jefferson Hotel in Richmond, VA. His blossoming career then led him to the kitchen of Thomas Keller's iconic Michelin 3-star Per Se di New York, hailed as one of the best restaurants in New York City by The New York Times.
Isa's Brings New Charm & Updates to 1 Battery Park Ave
The 11,000 square foot space that houses Isa's Bistro has undergone a complete transformation since renovations began in December. A key feature is the newly added full-bar centerpiece which can sit up to eighteen people, an enlarged main dining room with patio seating on the main level, and the wine cellar event space.
"I think people who have been in the space in the past will be amazed," says Tony Fraga. "Great space needs great management talent to make it all come together."
Lower-Level Wine Cellar Offers Chic Private Events Space
In addition to the remodeling of the Bistro, the lower-level wine cellar has been designed as an intimate venue for private parties, wedding receptions, and events and gatherings of all shapes and sizes. The Cellar, which features its own wine vault, can host parties of 12 to 120 people, and will offer downtown Asheville's most extensive wine list to date.
General Manager Jason Cancilla states, "a lot of wineries in Europe and California are developing portions of their wine cellars as event space, where you sit among the barrels and have a dinner party, and that's the route we're going… I think that's going to be rare, having an event space that can fit 120 people, and a great restaurant and someone like Duane tied to it."
Isa's Bistro will offer complimentary valet parking to its patrons.
About Isa's Bistro: 1 Battery Park Ave. Open Monday through Saturday from 11:30 a.m to 10 p.m. for lunch and dinner, and Sunday from 11 a.m. to 10 p.m for brunch, lunch, and dinner. For more information, contact Jason Cancilla, General Manager at 828-335-1239, info(at)isasbistro(dot)com, or visit http://www.isasbistro.com.