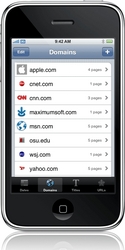 Dublin, OH (PRWEB) April 12, 2009
MaximumSoft Corp. today announced release of its new product iSaveWeb.
This application saves pages of websites directly to iPhone or iPod touch. iSaveWeb gives instant access to stored web pages at any time, no Internet connection is needed. With iSaveWeb there is no need to bookmark favorite pages anymore, just save them to the device and view them offline.
Saved pages can be located by Date, Domain name, Title or URL. The information is stored directly on the device. Pages can be saved either from iSaveWeb browser, or directly from Mobile Safari browser (when using special bookmark).
Use iSaveWeb to store favorite web sites, online books, news, pictures, study materials - everything that can be see in Mobile Safari browser.
iSaveWeb is currently available for iPhone and iPod touch devices and can be purchased from Apple App Store.
Versions for BlackBerry and Windows Mobile will be available in Q3 of 2009.
About MaximumSoft Corp.:
MaximumSoft Corp., the developer of several award-winning products, including WebCopier suite of applications, is an offline Web browsing technology developer headquartered in Dublin, Ohio, U.S.A.
The company's products allow to download entire websites, store them locally and view them later, at users' convenience. WebCopier applications provide access to the downloaded information at any time, no matter where its users are, no Internet connection is required.
Individuals can use WebCopier to save complete copies of their favorite sites, magazines or stock quotes. Students can download enormous amounts of information from the Internet for later study. Teachers can download whole sites so their students can view them later offline.
Companies can use WebCopier to transfer company's intranet contents to staff desktops and notebooks, create a copy of companies' online catalogs and brochures for sales personal, backup corporate web sites, print downloaded files.
WebCopier is avalable on Windows, Mac and Linux.
CONTACT INFORMATION:
MaximumSoft Corp.
http://www.maximumsoft.com
All product and company names mentioned herein may be trademarks of their respective owners.
###