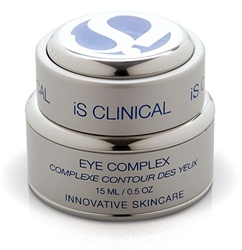 For more enhanced eyes try the all new iS Clinical Eye Complex!
Los Angeles, California (PRWEB) October 02, 2011
Skincare Market has the iS Clinical Eye Complex which is an effective yet gentle formula. This remarkable product addresses the complicated concerns of the delicate eye area. The eye cream combines hydrators, botanical antioxidants, skin lighteners and mild resurfacing agents to promote the better looking eyes. This product hydrates, smoothes and protects the eye area while reducing under eye puffiness and lightening under eye dark circles. Also, it gently tones the eye area for a firm look with no fine lines and wrinkles. Furthermore, it elasticity and provides both rapid and long term results that are assured. It can also be used as a great lip treatment and be used under makeup. The iS Clinical Eye Complex provides both immediate and long term benefits. For best results, apply to the clean skin by dabbing gently to the delicate pars of the under eye area.
###