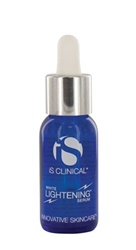 Helps fight hyper pigmentation and cover any affected areas.
Los Angeles, CA (PRWEB) October 08, 2011
Skincare Market Inc. has the newest product from iS Clinical called the White Lightening Serum which is a powerful formula that safely and rapidly lightens hyper pigmented areas. It also provides significant controlled exfoliation without evident of peeling. This serum is easily absorbed and is excellent for overall coverage with a more natural look to the skin. This product has a concentrated combination of potent botanical ingredients that helps address hyper pigmentation on a number of levels while providing multiple anti-aging benefits.
The iS Clinical White Lightening Serum helps inhibits enzymes that produce melanin by interrupting the transfer of melanin and increasing controlled exfoliation, helping to remove hyper pigmented areas. It provides substantial controlled exfoliation and resurfaces the skin with no inflammatory effects to the affected area. For best results, apply a small amount to clean skin over face, neck, or affected area.
###