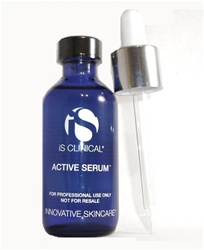 The most active product to help decrease the appearance of wrinkles!
Los Angeles, California (PRWEB) November 05, 2011
Skincare Market Inc. has the new product called the iS Clinical Active Serum which is an active, long term formula that helps decrease the appearance of fine lines, wrinkles and hyper-pigmentation caused by anti- aging and environmental skin diseases. This product is excellent for all skin types except for people who have hyper-sensitive skin. This powerful serum does not have a drying effect on the skin, which allows the skin to stay moist and hydrated at all times.
The iS Clinical Active Serum provides both fast and and extended result term. The serum diminishes fine lines and wrinkles at a faster acting rate while also diminishing the appearance of hyper-pigmentation and acne. Also it smooths and softens the complexion of the skin. For the best results, apply a few dabs to the clean skin, face, and neck in the evening. This active product will produce a slight tingling sensation within the skin which disappears within a few minutes.
###