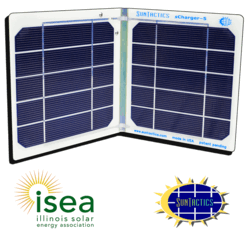 Many of our sCharger-5 features are similar to those of commercial solar power installations
Palatine, Illinois (PRWEB) October 17, 2012
"We are looking forward to working together to advance our common cause, clean power for all" said Lesley McCain, Illinois Solar Energy Association (ISEA) "Getting people energized about solar is a critical objective for ISEA. The Suntactics sCharger-5, designed and built to be as durable, reliable and easy to use as a home solar system, represents a very effective way to demonstrate how solar installations work.
"The initial program will offer the sCharger-5 as an incentive for Illinois clean energy advocates to support ISEA by making a donation and receiving an sCharger-5 as a gift."
Dean Sala, Suntactics Founder and CEO, said, "I am pleased to be working with ISEA to help promote solar energy and our remote solar chargers are an excellent way to do just that. Many of our sCharger-5 features are similar to those of commercial solar power installations. Both are designed and built for long-term value and not obsolesce.

Suntactics sChargers are built using a state of the art circuitry design optimized to assure the device is always charging at an optimal rate.
All Suntactics units are manufactured with a durable, "marine-grade" construction process to assure long life under continual exposure to adverse weather conditions.
Suntactics sChargers' simplicity in design makes them hassle-free and easy to use.
Several other companies have already purchased Suntactics sChargers for use in marketing promotions for their products as well as customer and employee incentives programs.
About the Illinois Solar Energy Association (ISEA)
ISEA (http://www.illinoissolar.org) is a 35-year-old non-profit organization that promotes the widespread application of solar and other forms of renewable energy through education and advocacy. As the Illinois chapter of the American Solar Energy Society (http://www.ases.org), we are the state resource for educational classes, events, renewable energy related policy developments, Illinois news and access to local renewable energy vendors.
About Suntactics
Suntactics focuses on portable solar and off grid solar energy products. Their current products are a unique 5-watt handheld solar charger called the sCharger-5 and powerful duel port 14-watt solar charger called the sCharger-12. These compact high power and durable solar power chargers meet the needs for a wide range of portable devices. The units are manufactured in the USA at Fastrak a veteran owned contract manufacturer. Suntactics is headquartered in San Jose, CA.