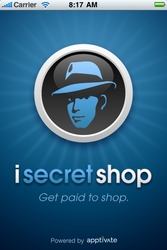 They've taken a disruptive technology (Smartphones) married it to a disruptive model (the iSecretShop Program) and have disrupted the entire, outdated Mystery Shopping industry.
Orting, WA (PRWEB) July 30, 2010
For the first time, American business can both financially and psychologically benefit from the marriage of two previously unrelated entities - the Smartphone & Secret Shopping. iSecretShop has been called a 'Game Changer' by industry insiders as restaurants and retail businesses across the nation embrace the mobile application that removes subjectivity and fraud from 'Mystery Shops,' replacing them with Smartphone technologies that have businesses everywhere clamoring to take part.
"The old 'Mystery Shopping' model is fraught with problems... that's why nearly every competitor of iSecretShop lists 'Beware of SCAMS' on their websites. "In reality, they have little control over their shops and shoppers." said Andrew Walker, Co-Founder of Apptivate, the developer of iSecretShop. "iSecretShop is menu-driven with each business's specific questions and requirements installed, it leverages the technologies already available in Smartphones to eliminate all subjectivity and concerns for the business - and the results of the shop are instantly emailed to the business and stored and displayed online to show trending, specific shop details and more."
Pre-sales of the service for retailers and restaurants have been brisk as iSecretShop's value to business is obvious and alluring. For example, let's say you're a restaurant and one of your Mystery Shopping questions is, "Please tell us the about the presentation of your meal." With the old model, a shopper would sit down, enjoy the meal, go home, and hours or days later begin filling out the form of the Mystery Shop using only their memory of the event to capture their feelings and opinions that single question and then writing their response. With iSecretshop that same question - "Please tell us the about the presentation of your meal." - is answered with a picture, at the time the meal is served, by the camera in the Smartphone. That image is instantly uploaded to the iSecretShop client's portal.
According to one industry insider, he positions iSecretShop the following way: "They've taken a disruptive technology (Smartphones) married it to a disruptive model (the iSecretShop Program) and have disrupted the entire, outdated Mystery Shopping industry."
Duke Moscrip, proprietor of the Seattle-based Duke's Chowder House restaurant chain, was one of the very first concepts to move all Mystery Shopping efforts to iSecretShop. "Look around your restaurant... There are 39+ million iPhones equipped to literally tell you what you need to bring them back and empower them on your experience. To not be on iSecretshop is to ignore the most powerful and direct one-to-one communication ever possible in a restaurant."
Moscrip should know how technology, applied correctly, can bolster a restaurant's bottom line. Already legendary within the restaurant business for his accumulation of more than 250,000 customer email addresses and having slashed his traditional media budget for accountable online and interactive advertising, Duke's Chowder House restaurants implores and rewards their patrons for feedback this valuable.
"If you're serving what 'you think' the customer wants without asking, you're asking for trouble." added Moscrip. "The internet has broken down the walls of distribution and the consumer is not only in charge, they KNOW they're in charge. iSecretShop gives us the ability to not only get real-time answers to customer experience questions, we get them from real customers and not 'professional shoppers', and we get tonnage that costs a fraction of the old paper model."
Retail business too saw the value in its limited time pre-pitch prior to launch. Max Muscle Sports Nutrition stores across the country were placed on the iSecretShop platform to do more than get real-time, accurate data on the shopping questions needed to run a successful nationwide franchise organization.
"It's incredible when you consider that I can login to my iSecretShop Administration portal and not only know that each customer was actually at my business via the 'Proof of Patronage' guarantee of having the shop GPS recorded, but to have both separate and aggregate views of all activity in a timeline comparing progress, input, images, and specific question scores was - until iSecretShop - unheard of." said Sean Greene, President of Max Muscle Sports Nutrition stores. "In a matter of moments I can see the entire health of my 150 stores, pinpoint issues, address concerns, and all with photographs time-stamped from minutes ago."
"Plus, iSecretshop prices are the fraction of the old school model, there's no paper and no loss-of-data based on somebody's memory." added Greene.
With iSecretShop, businesses also have the option of rewarding the Secret Shopper at the end of each shop with an exclusive premium from that business. Coupons, Special Offers and more, can all be pushed directly to the shopper's phone. iSecretShop provides a wealth of promotional and Secret Shop services for businesses of all sizes incorporating all kinds of needs.
"The entire application was not only built on providing accurate data faster and at a better cost point, but to bring several services together through the use of the 'seventh media', mobile phones." said Jennifer Ely, Co-Founder of Apptivate and veteran of the old school Mystery Shop model. "iSecretShop has completely redefined the secret shopping industry – leveraging Smartphone technology to erase all the problems inherent in the traditional system – and lowering the cost to you at the same time."
iSecretShop delivers 100% Accurate Shops, more of them, with instant results, pictures rather than words, several different custom programs to best fit your business needs, - and does so at a far lower cost than the very model it replaces.
"Ain't technology grand?" added Walker
For more information about iSecretShop contact Andrew Walker at Apptivate, http://www.apptivatellc.com or view iSecretShop at http://www.isecretshop.com. Download from the iTunes App Store: Search isecretshop
# # #