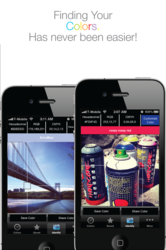 "As an artist this App helps me greatly.
Great App!!"
New York, NY (PRWEB) December 03, 2012
iSeeColors is a color app specifically used for identifying colors, and is useful for various tasks. Users of iSeeColors claim it is as easy as taking a picture, especially with its user friendly interface.
For the ones designing websites or similar this app provides assistance when the creative mind needs to be brought to life. The iSeeColors app enables the user to identify every color he or she chooses while also providing them with detailed information about the identified color. In turn, this information can then be used for any purpose he or she sees fit, for example for describing the color of the house interior to a store assistant. This convenience could save users that fifteen minute talk of just explaining what color they're talking about. Besides simply identifying colors, the iSeeColors app also lets users share this information through email and the various social media platforms like Facebook and Twitter.
The app also helps people with color deficiencies. For those in the graphics community, the app is probably most useful. The app provides Hex Triplet codes, RGB percentages, CMYK values plus version 1.1 enables users create their own color. There are many more functional applications to this app, ranging from complex tasks to simple everyday ones.
The iSeeColors color app has been made possible by the company Designed by an Alien in partnership with CreateAppsHere, together they brought forth this very useful app.
With their respective creative teams, they keep working to make the iSeeColors app an even better one.
To get the iSeeColors app users can simply go to the iTunes Store: itunes.apple.com/us/app/iseecolors/id545121165
Features:

Identify a Color's Name
Identify a Color's Hexadecimal Value
Identify a Color's Red, Green, and Blue Values
Identify a Color's CMYK Values
Create your own colors within the app
Modify any color you identify to adjust any of it's values (Names and Color Values)
Save any color for future reference
Share the color via E-Mail, Twitter, or Facebook
Useful links:

About Designed by an Alien
Designed by an Alien specializes in Design & Development of Mobile Devices, Web Sites, & Graphic Design. They create amazing apps, out of this world websites, and rockin' graphics.
Owner: Gregory Ortiz
Contact: Gregory(at)designedbyanalien(dot)com
Phone: 347-460-1373