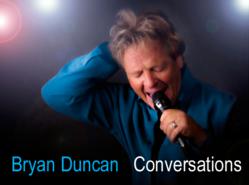 Duncan is offering fans a chance to hear his entire Conversations album and the stories behind the songs free at SoGoodForTheSoul.com.
Riverside, California (PRWEB) May 30, 2013
Christian music legend Bryan Duncan released a live performance video of his current Christian radio single I See You and is preparing to launch a national I See You concert tour starting with performance in South Bend on June 7.
Duncan recorded the I See You Video live, unplugged style, at Palmtree Productions' 4,000-square-foot facility in Tupelo, Mississippi. Palmtree Productions, Inc. is an award-winning video production company specializing in music videos, commercials and corporate videos.
"We've always been huge fans of Bryan Duncan," says Anne Palmer, Producer and Palmtree Productions President. "We were very excited when Christopher Redner contacted us about the opportunity to work with Bryan on a video for his Conversations album! Bryan traveled to our studio to record unplugged versions of some of the songs from his new album with Tupelo-area musicians. It was a pleasure watching Bryan perform and interact with everyone, including many he'd never met until that day."
"Bryan's professionalism, amazing voice and great sense of humor made it a fun and rewarding experience for us."
Duncan started performing professionally with the Sweet Comfort Band and recorded six albums with them before launching a solo career. He has released 14 solo albums, including his new album Conversations, and three more with The NehoSoul Band, selling in excess of 1.2 million records and videos.
Duncan's song I See You is a grateful acknowledgement of God's presence and participation in our lives.
"My wife does this thing throughout the day," says Bryan Duncan. "She'll be working at something and out of the blue she'll just stop, point to the sky and say 'I see you!' I had to smile because it is such a great example of being in the moment with God. I don't see that kind of acknowledgement of God very often. It seemed like the perfect idea for a song."
The I See You Tour features Duncan performing some of his 16 No. 1 radio hits and songs from his new album Conversations. Duncan will debut a father/son duet, entitled Every Father Is A Son, at radio in June, in time for Father's Day. The song will honor dads through the Fathers Who Serve and Dads Who Serve campaigns. Duncan will do a June media tour to promote the campaigns.
The I See You tour offers churches and charities the resources, volunteers and funding to reach new people and impact their communities. Even groups with limited experience organizing events can produce them effectively with support from Children In Need Inc.
Producing a concert on the I See You Tour or the Joy To The World Christmas tour is easy, even for groups with limited experience. The tours provide volunteers, training, advertising and marketing tools and social media support. Children In Need Inc. will even help host churches and charities finance their concerts through crowdfunding.
Crowdfunding is a convergence of technology, social media, fundraising and patronage that provides billions of dollars in backing to hundreds of thousands of projects. In addition to providing financial support, crowdfunding projects provide valuable information about public interests, facilitate deep relationships with backers and act as self-funded marketing campaigns for the events, services, products and campaigns they fund.
Duncan is offering fans a chance to hear his entire Conversations album and the stories behind the songs free at SoGoodForTheSoul.com.