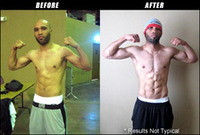 I plan to continue to do what I have done for my whole career
Manasquan, NJ (PRWEB) May 21, 2008
After dominating the last three rounds of his junior middleweight bout against a rapidly tiring Joel Julio, Ishe Smith was in high spirits in his corner as he refueled his muscle-bound body with a post-fight Supreme Protein® bar. Amazingly, Smith looked as fresh as he had in Round One, when his entry into the ring prompted a gasp from the crowd as they marveled at his newly ripped and densely muscled physique. Meanwhile, across the ring, Julio was clearly decimated as the fight drew to a close, fatigued by his own fruitless windmilling and Smith's relentless jabbing and counterpunching.
But then fortune turned its back on the man they call "Sugar Shay." The three judges awarded the fight to Julio, all by very narrow margins.
"It's unfortunate, but sometimes I think the judges don't respect the pure science of boxing as much as they should," Ishe says. "They discount the pure beauty of the sport in favor of someone who just throws punches. I love the UFC and I have trained with a lot of fighters from their organization, but boxing is not the UFC. It seems that sometimes fans and judges want boxing to be like that and it is not."
Smith, however, is not a man to allow himself to be consumed by regret. Indeed, his title hopes have been boosted by a newly transformed physique that is as lean and ripped as any fighter's in recent memory, and he has his sights focused firmly on the immediate future.
"I plan to continue to do what I have done for my whole career," he says. "To fight the best my division has to offer. I am not going to give up or give in until I become champion."
If sheer razor-sharp conditioning is an accurate barometer of future success, then it's hard to doubt Sugar Shay's prediction. Prior to and during the Smith-Julio bout, ESPN's fight commentators made a point of commenting on Ishe's dramatic recent physical transformation. Remarkably, Smith has added several pounds of muscle mass to his frame, while decreasing his body-fat to an otherworldly 3%.
"I train hard, I do a lot of weight work, ab work, cardio. I eat very clean, lots of chicken breast, turkey breast, salmon, cod, oatmeal, walnuts and almonds, egg whites, lots of veggies and fruit." And then, of course, there's the elite protein that he consumes at multiple intervals of the day to promote muscle growth. Supreme Protein® has become his muscle-building tool of choice because it delivers an elite source of anabolic whey protein isolate. Ishe takes Supreme Protein® with him everywhere he goes, including the ring on fight night.
"After every workout, every sparring session, and every fight, I refuel with Supreme Protein® bars," the rock-hard middleweight says, clearly warming up to a favorite topic. "Let's face it, no other protein bar (or any food protein source for that matter) has Supreme Protein®'s superior nutritional profile and elite protein content. Where other bars contain mostly inferior aminos and filler, Supreme Protein® is packed with 30 grams of a premium-grade protein blend, powered by high quality amino-rich whey isolate. I eat two, sometimes three, a day, and I can honestly say they have made the biggest difference by far of anything in my nutritional regimen. I am now much stronger and more ripped then I've ever been, and my muscle recovery is lightning quick."
Smith, who is not a paid endorser of Supreme Protein®, discovered the bars less than a year ago and was quick to seek out the bar's makers in order to secure a dependable supply. When it is pointed out that he certainly didn't waste any time supporting muscle recovery after the Julio fight with a Supreme Protein® bar, Smith grins. "After you go ten rounds, your muscles are starving for amino content. Two Supreme Protein® bars contain 60 grams of the best grade of protein, and that's what you need to kick start muscle repair and new growth. Supreme Protein® has helped me add some serious muscle, while becoming the most shredded I've been in my entire life. Adding the Supreme bars to your regimen is the best way I've found of getting serious results from my training."
As Smith prepares to head off to his home-away-from-home, the Las Vegas Athletic Club, for more intensive training, there's time for a couple more questions. Does Smith think Julio would have lasted through an eleventh or twelfth round?
Smith is characteristically modest. "We had a good fight plan going in and I thought we did a good job of closing the show the last 3 or 4 rounds. You just don't know what the judges are looking for sometimes. I don't think Julio had a lot left, to be honest."
Coming off the Julio fight, many observers of the sport believe that Ishe is at an important career juncture. Can he give us a sense of where he's going from here? What is his plan for, say, the next 12 months?
Smith, as guarded and disciplined in an interview as he is in the ring, gives little away. "I just want to stay busy." he says, "keep training, and be the best boxer I can be."
Given his laser-focused determination, astounding physique, and a little help from Supreme Protein® bars, his favorite anabolic super snack, we'd say Ishe Smith is already well on his way to achieving that goal.
###