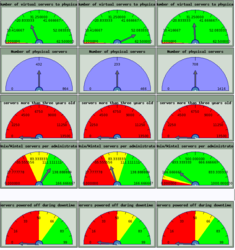 we can provide a plan for increasing the efficiency of any work load situation and show it with concrete ROI analysis and graphics to clearly quantifying cost reduction opportunities in server/storage consolidation, virtualization, and cloud
Minneapolis, MN (PRWEB) January 31, 2013
Infrastructure Solutions, Inc. (ISI), a leading provider of IT infrastructure assessment and optimization software products and services, announces a partnership with WinterGreen Research, Inc. The goal of the partnership is to provide comprehensive real-time assessment and planning resources to data center managers that will help them drive down ongoing operating costs by minimizing inefficiencies in IT resources and energy consumption.
Since the company was founded in 1985, WinterGreen Research has specialized in providing strategic market assessments and forecasting international business opportunities for a broad range of industries including internet, software, hardware, telecommunications, security, nanotechnology, healthcare, energy, and pharmaceutical.
In this partnership, Wintergreen will provide data center analysis tools, energy heat mapping, server/storage recommendations, and ROI analysis. This information coupled with detailed reports from ISI Snapshot on the discovery and inventory of data center infrastructures, configurations, and utilization data, allows data center operators to assess and manage their current infrastructures—physical, virtual, and cloud—for cost savings and energy efficiency.
According to the 2010 Gartner study on data center design, x86 servers are running at about 12% utilization and racks are populated to 50 to 60 percent capacity, so an efficiently designed and implemented data center infrastructure will yield significant improvements and cost savings.
"We see value in using the tools together to provide accurate assessments with tactical action plans," said Susan Eustis, WinterGreen Research, President and CEO. "With the ISI Snapshot inventory and discovery reporting and our data center energy heat map product, we can provide a plan for increasing the efficiency of any work load situation. And, we can show it with concrete ROI analysis and graphics to clearly quantifying cost reduction opportunities in terms of server/storage consolidation, virtualization, and cloud adoption."
"We are happy to work with the principals of WinterGreen Research to provide data center managers with resources to better manage their infrastructure and energy use," said Willard (Bill) Cecchi, President of ISI. "With WinterGreen's proven ability to analyze trends and develop best practices recommendations, and ISI Snapshot's industry-trusted inventory and discovery capabilities, we believe the resulting plans for reducing data center and energy consumption inefficiencies will be surpass anything data center operators can get today."
Snapshot has been used to help public and private clients—across a wide range of industries—with IT security and performance optimization. To learn more about ISI's Snapshot software or to request a demo, visit http://www.isiisi.com.
About Infrastructure Solutions, Inc. (ISI)
Infrastructure Solutions, Inc. (ISI) is based in St. Paul, Minnesota and has been providing leading software solutions to enterprise IT organizations worldwide through distinguished international channel partners, including IBM and Cisco Systems, Inc. ISI products help organizations manage IT security and performance optimization. For more information, visit
http://www.isiisi.com
About WinterGreen Research, Inc.
The principals of WinterGreen Research have been involved in analysis and forecasting of international business opportunities in telecommunications and advanced computer technology markets for over 30 years. Founded in 1985, WinterGreen Research provides strategic market assessments of the internet, software, hardware, telecommunications, security, nanotechnology, healthcare, energy, and pharmaceutical industries. For more information, visit
http://www.wintergreenresearch.com
###