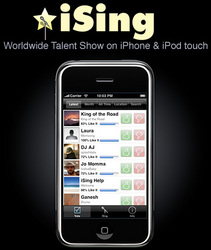 iSing is karaoke meets talent show meets social networking
Los Gatos, CA (PRWEB) August 25, 2009
Contestants are now lining up around the country to audition for Randy, Simon and someone other than Paula - but now anyone can audition before the entire world with iSing, the worldwide talent show via iPhone and iPod touch. iSing, created by games and entertainment producer Island Labs, enables anyone with an iPhone or iPod touch to record a 30-second audition, publish it, then watch their recording climb the charts as their "fans" vote for (or against) it in this worldwide competition for stardom.
"iSing is karaoke meets talent show meets social networking," said Morgan Slain, CEO of Island Labs. "We are very excited about providing a fun, lively venue on the mobile web for people to sing, share and compete for fame on the iSing talent show."
Upon launching iSing, users are presented with a list of song entries by iSing contestants. To listen to an entry, they simply tap on the thumbnail picture of the contestant, and use "thumbs up" and "thumbs down" buttons to vote. Users can also find entries by searching for the latest, best and worst of the current month, best and worst of all-time, or by location, which will present all the entries from a particular city.
Users can also search for specific friends and build their own network of iSing contestants.
Over time, they will be able to track which contestants soar to the top, and which sink to the bottom.
Competing in iSing is very simple, enabling contestants to record a 30-second audition with the tap of a button. After recording, the singer can review and re-record the song prior to being submitted to Island Labs for review. Once approved, the contestant will receive an email letting them know their audition is now "live" and they can share it with friends who will vote for it.
A video demonstration of iSing can be viewed at http://www.isingoniphone.com/video/intro. iSing is available for iPhone and iPod touch in the App Store for US$0.99.
###