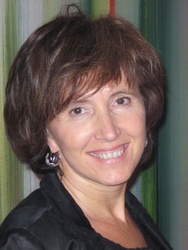 Being named a Finalist in The Stevie Awards for Women in Business is an important achievement
VIENNA, Austria & DALLAS (PRWEB) October 28, 2008
Winners will be announced during a gala event at the Marriott Marquis hotel in New York on Friday, November 14. Nominated women executives and entrepreneurs representing an international business community are expected to attend.
More than 1,200 entries were submitted for consideration in 50 categories, including Best Executive, Best Entrepreneur and Best Community Involvement Program. Ms. Pucher is one of only 13 finalists for the Lifetime Achievement honor.
After working with IBM in Europe and the Middle East, and then in the Austrian electronics industry, Ms. Pucher launched ISIS with partner Max Pucher in a basement home office more than 20 years ago. Today, ISIS Papyrus has more than 250 employees in 16 offices and the Papyrus Business Information Platform is used by more than 2,000 organizations worldwide to improve enterprise customer service, quality and communication. Under Ms. Pucher's operational direction, ISIS Papyrus has expanded to issue more than half of the United States credit cards and produce more financial and telecom documents than any other vendor in the European Union.
"Joining this distinguished group of accomplished executives is an honor and a privilege that I share with the entire ISIS team," said Ms. Pucher. "Our focus on building long-term relationships with clients drives our long-held conviction that effective enterprises need content and processes that link all systems, applications and people around the globe. The ISIS Papyrus family shares in the pride, integrity and success of the Papyrus Platform and solutions bringing real-world value to customer-focused companies around the world."
Finalists were chosen by business professionals worldwide during preliminary judging. Members of the Awards' Board of Distinguished Judges & Advisors and their staffs will select Stevie Award winners from among the Finalists during final judging.
"Being named a Finalist in The Stevie Awards for Women in Business is an important achievement," said Michael Gallagher, president of the Stevie Awards. "It means that independent business executives have agreed that the nominee is worthy of recognition. We congratulate all of the Finalists on their achievement and wish them well in the competition."
Details about The Stevie Awards for Women in Business and the list of 2008 Finalists in all categories are available at http://www.stevieawards.com/women.
About ISIS Papyrus Software:
ISIS Papyrus develops and delivers consolidated customer communication and process optimization solutions for enterprise organizations in the financial, utility, telecommunications, healthcare, insurance and public sectors. In 2008 ISIS Papyrus celebrates 20 years of excellence and customer-focused innovation, with 16 worldwide offices, 14 subsidiaries and three development centers supporting more than 2,000 enterprise and government customers worldwide who are using ISIS Papyrus solutions for process improvement, business correspondence, multi-channel output, e-mail, document capture and archiving. Today more than 2000 customers have chosen ISIS Papyrus as a proven and fully integrated customer communications platform for end-to-end flexibility, efficiency, collaboration, quality and continuous improvement of customer data, content and processes. More information about the company and its ISIS Papyrus Enterprise Communication and Process Platform is available online at http://www.isis-papyrus.com.
About The Stevie Awards:
Stevie Awards are conferred in four programs: The American Business Awards, The International Business Awards, The Stevie Awards for Women in Business, and The Stevie Awards for Sales & Customer Service. Honoring organizations of all types and sizes and the people behind them, the Stevies recognize outstanding performances in the workplace worldwide. Learn more about The Stevie Awards at http://www.stevieawards.com.
Release Summary:
Enterprise software veteran Annemarie Pucher, CEO of ISIS Papyrus, is a 2008 Finalist in the Lifetime Achievement category of the Stevie Awards for Women in Business, honoring women executives impacting international business.
Keyword Tags:
annemarie pucher, enterprise application software, enterprise software, global awards, international business, isis papyrus, stevie awards, technology industry executive