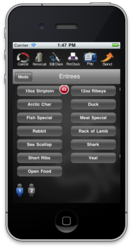 Restaurants that embrace new technological tools have a business advantage...
Markham, ON (PRWEB) July 28, 2011
ISISPOS, the Apple restaurant point of sale software company announces the availability of its restaurant POS software to operate on iPod touch and iPhone, in addition to iPad. ISISPOS support for Apple products allows servers to take orders and process payments directly in front of their customers, rather than visiting a busy, fixed workstation.
Servers can visit tables with the iPod touch or iPhone for pairing suggestions on the spot, an easy to use wine selection mode, and a way to display daily specials with just the touch of a button. Ringing in an order is as simple as selecting its corresponding image. ISISPOS automates all pricing, including support for discounts, service charges, split checks and much more.
"Restaurants that embrace new technological tools have a business advantage," says Executive Vice President, Paul Perri. "Smart restaurants aren't ignoring technology, they're figuring out how to make it work for them." The old traditional POS model has increased complexity and generates additional cost, according to ISISPOS IT experts. With mobile POS, entrepreneurs improve servicing the guest and edging out the competition.
In addition to this convenient system for servers, managers utilizing the mobile manager application for iPod touch and iPhone can oversee their restaurant on a completely wireless basis. Owners and managers operating on an anywhere, anytime philosophy are able to make changes, effect operations, make decisions that impact the bottom line, and increase customer satisfaction.
ISISPOS offers a pay-as-you-go model for its restaurant POS products. The pay-as-you-go model minimizes financial risk because there are no up-front costs. CFOs can account for business value generated by the service during the same financial period as costs are incurred.
For more information visit http://www.isispos.com/ or tweet the company @ISISPointOfSale.
About ISISPOS:
ISISPOS is a revolutionary hospitality point of sale system that combines Apple innovation with powerful business logic; it offers fully featured and easy to use solutions designed for the restaurant industry. ISISPOS provides an anywhere, anyplace web-based interface that produces clear reports and analytics of single or multi-store operations, saving companies time and giving them absolute control over their business operations.
Contact:
Paul Perri, EVP
paulp(at)isispos(dot)com
# # #