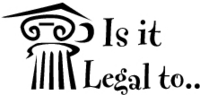 tremendous and valuable free resource on legal topics and answer is it legal to questions
Denver, CO (PRWEB) April 12, 2009
Is It Legal To today announces successful site launch and phenomenal growth to already surpass 2,000 Is It Legal To members. Is It Legal To was founded December, 26, 2008 and has already gained over 2,000 Is It Legal To members and 2,000 Is It Legal To posts. Thanks to its community members, Is It Legal To has proven to be a valuable legal community and resource.
Is It Legal To was developed with the intention to be a fun, valuable and entertaining resource on legal topics. The goal of Is It Legal To is to become a "tremendous and valuable free resource on legal topics and answer is it legal to questions". Knowing legal rights is essential to life, liberty, and the pursuit of happiness. Is It Legal To is designed to help answer those one off legal questions about legalities.
Is It Legal To currently has forum areas for United States Legalities and Other Country Legalities where community members can ask and answer questions about legalities and compare laws from one country to another.
Is It Legal To also has a section on Crazy Laws from around the world where crazy, strange or weird laws can be discussed.
Registration to the Is It Legal To Forum is free, easy and only takes a minute to complete. It is simple to become a part of the Is It Legal To Community and contribute to this free legal resource.
About Is It Legal To:
Is it legal to and or its owners.. shall not be responsible or liable for the accuracy, usefulness or availability of any information on isitlegalto.com. Is it legal to.. is provided for entertainment purposes only, and is not a substitute for professional legal advice. Always seek the advice of a qualified attorney licensed in the appropriate jurisdiction before taking any course of action that may affect your legal rights.
###