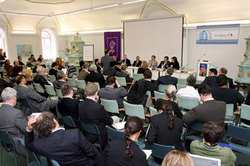 A Vision for the Future
Salzburg, Austria (PRWEB) August 22, 2007
New York University Center for Dialogues: Islamic World - U. S. - The West, in conjunction with the Salzburg Seminar recently brought together 60 policy makers, community leaders, scholars, media professionals and activists from Europe, North America and the Muslim World to address the question, "Muslim Youth and Women in the West: Source of Concern or Source of Hope?"
Dialogues founder and director, Mustapha Tlili, called for creative thinking about the inclusion of Islam and Muslims in the West, including the possible development of a new "citizenship pact" in which the reciprocal obligations of state and citizens would take into account today's pluralistic societies.
Mayor Heinz Schaden welcomed the conference to Salzburg, which has the largest foreign-born population in Europe, and in which Islam is the second-largest religion in the schools. Salzburg Seminar senior vice-president and chief program officer, Edward Mortimer, urged the redefining of mutual expectations among people of different religions and cultures.
Austrian Federal Minister for European and International Affairs, Ursula Plassnik, spoke of the need to improve educational and job prospects for young Muslims, particularly males. She also acknowledged that Muslim women are not homogenous, nor are many of their problems unique.
Ambassador Ralph Scheide, Deputy Director General for Political Affairs and Director of the Near and Middle East Department and Africa of Austria's Federal Ministry for European and International Affairs, discussed how Austria's 1912 recognition of Islam, as well as its granting of official status to "churches" of all religions, has furthered the integration of Muslims.
Marc Perrin de Brichambaut, Secretary General of the Organization for Security and Cooperation in Europe (OSCE), assessed 'Islam' as a security variable, specifically speaking of the changes in Muslim-majority states since the fall of the USSR.
Iqbal Riza, Special Advisor to the United Nations Secretary General on the Alliance of Civilizations, explained that this initiative works both politically and operationally to integrate Muslims into the West.
Ambassador Hans Gnodtke, Commissioner for Dialogue with the Islamic world and Dialogue among Civilizations at the German Federal Foreign Office stated that switching today's focus on "integration" (a contested term with no obvious standards of assessment) to the development of a new "citizenship pact" would merely change the label without solving the problem.
Farah Pandith, senior advisor on Muslim engagement at the State Department, said the U.S., being a country of immigrants, differs from many European countries in not having a specific policy regarding Muslims, who are equal before the law.
Later, a panel session titled "A Survey of the Current Economic, Social, Cultural and Political Landscape" featured presentations by NYU Professor Martin Schain; the Gallup Organization's Regional Research Director for Europe, Zsolt Nyiri; and Oxford University Professor Ceri Peach.
The second panel session, "A Vision for the Future," featured Susan Scholesfield, Director General for Equalities at the Department of Communities and Local Government in the United Kingdom, and Shaarik Zafar, Senior Policy Advisor from the United States Department of Homeland Security's Office for Civil Rights and Civil Liberties.
Subsequently, Oxford University Professor Tariq Ramadan and University of Tunis Emeritus Professor Abdelmajid Charfi each addressed the question, "Can Muslim youth and women infuse new vitality into old Europe, and on what terms?"
Tlili closed by asking what needs to be done for Muslims to be accepted without qualifications as full citizens in Europe and North America. Conference participants then divided into three working groups, whose findings were presented during final deliberations.
The 'security' group focused on the contexts within which extremist violence occurs and suggested ways to involve Muslim communities in preventing it.
The 'integration' group agreed that individual states need to define that term in their particular context, recognizing the comfortable existence of multiple identities, and not linking integration to fears of extremism and violence.
The 'religious practice' group disagreed as to European states' roles, if any, in the organization of Muslim social and religious tasks, but agreed that fostering a sense of belonging must be a reciprocal process that engages the wider society.
During the closing session, these conclusions were expressed as an "action plan" to facilitate their concrete implementation by governments, NGOs, community and religious leaders and others. The plan addresses the dispelling of Western media stereotypes; promotes the exchange of best practices through a Dialogues-compiled catalogue of successful grassroots experiences, as well as meetings between Muslim youth and adult role models; and encourages national governments and the European Union to establish objective indices for evaluating the success or failure of integration. The plan also encourages governments to collaborate with NGO and community organizations to conduct voluntary-participation censuses that address the critical need for good statistical information on Europe's Muslim communities, upon which effective public policy measures, among other things, depend heavily.
###