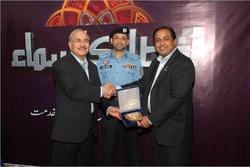 The Islamabad Police is providing invaluable support and doing a remarkable job in providing front line security to the local populace. In addition to this huge responsibility, they are also dealing with the daily law and order situation. This is highly commendable and requires the exact professional aptitude which we see in our Police Force
Islamabad (PRWEB) September 4, 2009
A Special Iftar Programme was organized by SAMAA TV with the Islamabad Capital Police at the Police Lines in Islamabad to honor the public service work being carried out by the Police Force and in support of their sacrifice and dedication to the nation.
The Iftar dinner was attended by all ranks of the police force under the special presence of Syed Kamal Shah, Federal Secretary Interior, Syed Kaleem Imam, I.G Islamabad and Amir Jahangir, Chief Executive Officer, SAMAA TV.
Speaking on the occasion Syed Kamal Shah talked about Pakistan's national security and the attempts to destabilize the nation by external and internal elements. Shah said that "Pakistan has become the target of extremism and it is a tough battle but due to the vigilance, commitment and dedication of the Government and the great support of the
Security Forces, this fight is a united effort to bring back peace and prosperity to our great country."
He specially applauded the National Police Force for being a key element in this battle. "The Islamabad Police is providing invaluable support and doing a remarkable job in providing front line security to the local populace. In addition to this huge responsibility, they are also dealing with the daily law and order situation. This is highly commendable and requires the exact professional aptitude which we see in our Police Force," Mr. Shah said.
Shah appreciated SAMAA TV's role for promoting the great work being done by the Police Service of Pakistan (PSP) as in the current times, everyone needs motivation and such initiatives bring encouragement and further motivation as well as keep the nation in high spirits. He also highlighted the important role the media has today in supporting the efforts of law enforcing agencies in combating terrorism.
Amir Jahangir, Chief Executive Officer of SAMAA TV presented special awards to the Police Officers, who have embraced Shahadat in the line of duty in the war against terror (WOT) and extremism. The awards were given to Head Constable Abdul Waheed (Shaheed), ASI Salah-uddin (Shaheed), ASI Munawar Hussain (Shaheed) and Constable Muhammad Tanveer (Shaheed).
Speaking on the occasion Amir Jahangir said "The Police Services of Pakistan is always there to create a safe and secure environment for our public, which is essential not only for economic prosperity but also for social cohesion and political development. SAMAA TV is here today to honor this responsibility and specially to remember those who have laid down their lives to safeguard the future of our children, institution and our way of life for a better tomorrow. These brave people should always be remembered and regarded highly as their sacrifices are priceless."
Amir Jahangir also said that SAMAA believes that coordinated efforts are required between all stakeholders to do more in educating the distorted minds of the young generation who become victims by being lured into extreme acts of violence through misrepresented facts, false education on religion and misled ideologies.
Syed Kaleem Imam, IG Police thanked SAMAA TV on behalf of all ranks of National Police Force for organizing the special iftar carrying the important message of appreciation towards the efforts of the Police Force and he said this is the first time ever that any media channel have shared the Ramadan at Police Line. Mr. Imam also said that the Islamabad Police have adopted a policing strategy that lays emphasis on community participation and problem solving, which includes the importance of mutual respect and understanding. "Given the importance of engaging the communities, I.G. Police informed the new initiative of Islamabad Police media and public relations cell, which will create synergies between media and the Police services on various initiatives to educate our public on the role of Police. We are not an intimidating work force as many feel; rather we are here to serve the public and we work keeping their best of interest in mind, as we all carry a joint mission and that is a more peaceful and progressive Pakistan," said Kaleem.
The Capital Police came into existence in 1st Jan 1981 by virtue of presidential order no. 17 & 18 of 1980 to fulfill the need for separate Police organization for the federal capital, Islamabad. It was established in 1981 carrying a police strength of 3484, including 2539 constables. In 2009, 11 officers have been awarded medals for their achievements out of which 4 have received the highest order of the QPM for embracing Shahadat in the line of duty.
The purpose of the Police Lines is to transform the trainee police officials into good officers who are sensitive to needs of the society and act professionally to uphold the rule of law and respect for human rights and promote democratic values, through community oriented policing. The officers are encouraged to solve the problems of crime, delinquency and social disorganization by adopting novel ways and means with active participation of the public.
This special visit was also broadcasted on SAMAA TV in a special Iftar Program, "Iftar Ka Samaa",. Iftar Ka Samaa is a programme produced specially in the holy month of Ramadan and aims at sharing the spirit of Ramadan with the vulnerable communities across Pakistan, who through their hard work and dedication carry a high importance and have given great contribution to the socio-economic development of the nation. The program also aims at working as the catalyst for voicing their concerns and issues and promotes the values of unity and humanity.
SAMAA TV is one of Pakistan's leading private satellite television channels, which takes pride in its fair, factual and independent news coverage through its on-the-hour bulletins, breaking stories, incisive political analysis and current affairs programs. The channel is the first media channel is Pakistan to have established a well integrated Corporate Social Responsibility Programme as part of it business activities. SAMAA TV's CSR programme carries various initiatives within health, education, environment and outreach programmes focusing on improving the socio-economic situation of Pakistan.
SAMAA TV has also made a niche for itself through its programs on women and youth issues besides infotainment and sports. SAMAA TV, launched in December 2007 has network of district correspondents and five (5) bureaus across Pakistan along with international stringers in the Middle East, Europe and North America.
###