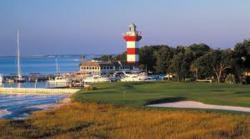 Island Getaway Rentals attributes a portion of their 2011 increase in bookings to their large rise in inventory of Sea Pines vacation homes and villas.
Hilton Head Island, South Carolina (Vocus/PRWEB) March 24, 2011
2009 was a year that everyone in the tourism industry, or any industry for that matter, would love to erase from their fiscal memories. Island Getaway Rentals, Hilton Head Island's largest and most respected home and villa vacation Rental Company, is doing their part to make sure that those memories are foggy at best. Through innovative marketing, and controlling the lion's share of the Island's high-end accommodations; advance reservations for the company are up over 20%.
Hilton Head Island is the second largest barrier island on the east coast and has been one of the most popular summer vacation destinations for the past 30 years. Hilton Head, and the iconic candy striped lighthouse in Harbour Town, has always been on the "bucket list" for those who have a passion for golf, beach, and island living. The PGA tour and CBS sports do an exceptional job of glorifying this island paradise every April when Hilton Head Island and Sea Pines Resort host the Heritage Classic professional golf tournament. It is one of the most popular stops on the PGA tour due to its laid back island locale and the field it brings. The players love being on the Island. Many players see it as a working vacation where they can relax, bring their family, and if they play well enough; earn some money.
Island Getaway Rentals attributes a portion of their 2011 increase in bookings to their large rise in inventory of Sea Pines vacation homes and villas. For years, Island Getaway has been the dominant player in the Palmetto Dunes Resort and the Forest Beach area for Hilton Head Vacation Rentals. Over the last couple of years they have added the Sea Pines Resort to their esteemed collection. Sea Pines has seen a great deal of change over the last decade and the vacation rental market had become fragmented with no real alternative when looking for a company to provide guidance on the vacation home rental market. Island Getaway Rentals recognized the need for a well established, locally owned company, to fill this void; and have added over 100 of Sea Pines most sought after rental homes and villas to their portfolio. When we last spoke with Todd Brooks, president of Island Getaway Rentals; he projected a tremendous impact on bookings due to the influx Sea Pines homes and villas. Island Getaway's unparralled marketing drives traffic to all of parts of Hilton Head, and it was a no brainer to hand pick exclusive Sea Pines homes and villas to offer their clients.
Island Getaway will be supporting the cause to keep the PGA Heritage Golf tournament on Hilton Head Island. Owners, Todd and Sarah Brooks are members of Heritage Tartan Club, and Island Getaway Rentals is one of only 10 Sir William Innes Heritage Partners providing sponsorship for the PGA Tour event.
All successful vacation destinations hit a point where they need to reinvent themselves. Hilton Head is rapidly approaching this crossroad and Island Getaway's presence in this process is pivotal. Island Getaway realizes the difference in what makes a vacation destination a good one that competes with every beach Town from Texas to New Jersey, and one that it is in a prestigious Class by itself. Over the next decade, Hilton Head Island will solidify its place as one of the premier resorts on the East coast.
For more information on Hilton Head Island and Island Getaway Rentals, go to http://www.islandgetaway.com.
Island Getaway has been the leader in vacation home and villa rentals on Hilton Head Island for over 25 years. With over 500 of the Islands most elegant home and villa vacation rentals, coupled with a friendly knowledgeable staff, the perfect vacation is only a phone call or click away. View all properties or book a vacation 24/7 at http://www.islandgetaway.com. To receive a 2011 guide to Hilton Head's Homes and villas please call 1.800.476.4885.
# # #