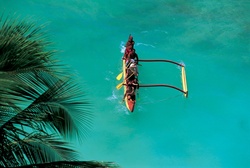 I felt like I was transported back in time. I can't wait to bring my kids there and experience it again with them
Ferndale, WA (PRWEB) July 30, 2008
Pat Hartmann, Product Manager for NWA WorldVacations, advises first time Hawaii travelers to limit the number of islands they visit during their Hawaii vacations. "Depending on how long their trip will be, I suggest going to only two islands, rather than trying to get to more. You end up spending too much time packing, unpacking and going to the airport," she said.
To answer the question of "Which island is my kind of island?" a traveler should first identify what they are looking for in a Hawaii vacation, and then match those interests with the attractions unique to each individual island.
More in depth information on Hawaii vacation packages can be found by visiting http://www.nwaworldvacations.com, but the information below will certainly get you started.
The Islands of Love
The romantic adventurer should head for Maui, Kauai, or Lanai. These islands offer the perfect settings for weddings, honeymoons and anniversaries, especially if the couple enjoys romance in an unconventional way.
When a couple arrives on Maui, a laid-back atmosphere full of beauty, shopping and delicious cuisine, an adventure welcomes them. One "must do" for couples taking a Maui vacation is the island's most popular road trip – the road to Hana. The winding road is a 52-mile, three-hour adventure through the rainforest. With 617 curves, drivers often need a respite, which Mother Nature provides in the form of dazzling waterfalls and secluded natural pools for swimming.
Kauai, nicknamed the Garden Isle, is full of romantic settings with waterfalls, sea cliffs, grottoes, jagged mountains, and - its most popular feature - fewer tourists. Only 10 percent of the island is accessible by car, and it's the only place in Hawaii where you can navigate the rivers. Couples can cruise up the Wailua River in a kayak or canoe to the lava rock Fern Grotto, a romantic spot used frequently for wedding ceremonies.
Couples who desire a more intimate, serene escape will enjoy the small island of Lanai. Attractions include Keahiakawelo, the Garden of the Gods, where dusk provides an enchanting background of rock towers and formations caused by years of erosion. Also, Lanai offers couples who share a love of golf two of the most spectacular championship golf courses in Hawaii.
Islands for the Family
Families will enjoy any island, but some of the attractions that might appeal more to children are on Oahu, the Big Island and Maui.
Oahu is well equipped with entertaining and educational attractions for children and history-buff parents, including the Honolulu Zoo, the Waikiki Aquarium, the U.S. Army museum, and the infamous USS Arizona Memorial in Pearl Harbor. "When I toured the USS Arizona memorial at Pearl Harbor, a World War II veteran guided the tour and his first-hand account of that historic event gave me goose bumps," said Susan Worwa, Manager of Corporate Communications for NWA WorldVacations. "I felt like I was transported back in time. I can't wait to bring my kids there and experience it again with them," she added.
The Big Island is relatively young in its experience attracting tourists, so it offers families a vacation off-the-beaten-path. One of the "big" attractions is Mauna Kea, the world's largest mountain, measured from the ocean floor. Because of the high altitude and clear air on top of Mauna Kea, ten nations have built world-class telescopes that allow researchers and visitors to see 90 percent of the heavens.
Maui provides great boat tours for families to catch sight of the North Pacific humpback whales that migrate from Alaska to Hawaii for the breeding season, which peaks in February and March.
Islands of Adventure
Travelers looking for a great adventure should head to Oahu, the Big Island, or Kauai.
Surf lessons are available on the world-famous Waikiki Beach in Oahu. Or, if traveling in December, visitors can watch the Surfing Championships, where surfers from around the world compete on waves 20 feet high, and higher!
The Big Island serves as a home to Kilauea, an active volcano that has been erupting since 1983. Visitors can come face to face with this natural spectacle, and other wonders, when they enter Hawaii Volcanoes National Park. In Hartmann's opinion, the Big Island is the best for adventure travel of the isles. "The Big Island has sandy beaches, waterfalls, rainforests, snowcapped mountains, and an active volcano waiting to be explored," she said.
Kauai is great for hikers. The only land entrance to one of the island's most secluded and untouched treasures, Kalalau Beach, is via the Kalalau Trail. This 11-mile trek crosses five different valleys. Hikers often opt to break the trip into two days by setting up camp at the halfway point (permit required).
After choosing which island to visit, the next question to ask is "How do I get there?" A Hawaii vacation package that includes air, hotel, car and even some tours or excursions on the islands is the easiest, most convenient, and most affordable way to see Hawaii.
NWA WorldVacations offers many Hawaii vacations, the most flexible flight options and a wide selection of hotels, tours and cars at a terrific value. In addition, the vacation package provider offers the most comprehensive luxury and romance packages to Hawaii through its LIFESTYLE Collection featuring Luxury and Romance. For more information, visit a professional travel agent or http://www.nwaworldvacations.com.
MULTIMEDIA GALLERY http://www.businesswire.com/cgi-bin/mmg.cgi?eid=5740835