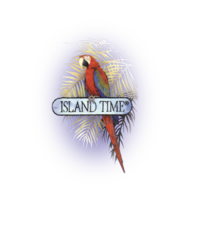 "It's a way to totally get away," says Chuck, "a way to escape to Island Time.
Tampa, FL (PRWEB) March 30, 2012
THE ISLAND OF MYSTIQUE - Laced in mystery and romance comes a new line of Caribbean-influenced lifestyle apparel by Tampa entrepreneur, Chuck Foster, President of Patio Pools. The line, Island Time® Gear, is designed to give its users the laid back, carefree attitude of island living.
The line of casual, worry-free apparel includes the Passport, State of Mind, and increasingly popular University of Island Time series. Island Time is more than something to wear, "It's a way to totally get away," says Chuck, "a way to escape to Island Time. When you see the Island Time logo, you aren't just beholding a unique line of active wear; you're poised on the shore of the sea of escape."
Yet surrounding the line is mystery. Mystery as to where it comes from, and even when it arrives. "I have contacts I just can't reveal. They tend to rely a little too much on the trade winds and tides, but they're very reliable" says Mr. Foster. "Besides, they also keep me supplied in jerk chicken and Red Stripe beer, so I wouldn't complain anyway."
It's believed that Chuck imports the line from somewhere in the Caribbean. "A little south of Key West, a little north of Buenos Aires" is as precise as he ever seems to get. It was once believed that in order to ship the goods, he employed former rum runners who wanted to go legit. Low flying seaplanes would head for a small, uncharted Caribbean island called Mystique.
There, Chuck and his sun-loving partners, "Mongoose", Carol, and "The Big Man", would prepare and pack the cargo for shipping to various ports on the U. S. mainland. "Sure, it's a lot of trouble," says Chuck. ''But once you know what this line can do for people, it's almost like a public service."
To understand, you have to be familiar with Mr. Foster's story ... Read the Island Time Gear Story
About:Island Time Gear is a Caribbean inspired apparel brand and the product of Chuck Foster, a world traveler who has a special love for the tropical islands, jerk chicken, Red Stripe Beer and Jimmy Buffet! His company and unique lifestyle apparel line were born out of a desire to help everyone discover their own brand of Island Time state of mind.