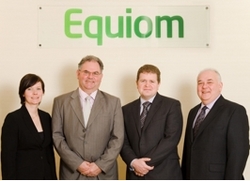 The growth in the Isle of Man e-Gaming sector, and our increasing involvement, has resulted in the requirement for Equiom to form a dedicated team
(PRWeb UK) March 18, 2010
Equiom Trust Company Limited has expanded its specialist e-Gaming team in order to manage the increasing international interest in e-Gaming in the Isle of Man.
The expanded team consists of Barry Smith, Legal Director; Aidan Davin, Client Services Director; Kerry Tasker, Team Leader and Paul Davenport, Consultant.
Team Leader Kerry joined Equiom in 2002 and has thirteen years experience in offshore administration, and has been an Associate Member of the Institute of Chartered Secretaries and Administrators since 1999. Prior to specialising in e-Gaming Kerry managed an administration team looking after a significant portfolio of clients including a number of Equiom's high net worth clients.
Paul Davenport joined Equiom as a consultant in November 2009 from the Isle of Man Gambling Supervision Commission (GSC) where he was a Senior Inspector. Prior to the GSC he was a Detective Constable with the Isle of Man Constabulary where he specialised as an Investigator in the Financial Crime Unit. His primary role in the e-Gaming team is to assist with licence applications, and the ongoing regulatory requirements of licensed companies. Paul is a member of the International Compliance Association, having qualified with the International Diploma in Anti-Money Laundering.
Commented Barry Smith, Equiom's Legal Director who has been responsible for several successful e-Gaming license applications: 'The Isle of Man has seen significant growth in e-Gaming which has produced direct revenue and employment across a number of job specifications. As a corporate service provider, with extensive experience in the e-Gaming sector, we are involved in the licensing application process and co-ordinate and implement bespoke tax planning structures. In the last three months alone we have been responsible for the successful applications of two new e-Gaming companies which will bring additional revenue and employment to the Island.'
Aidan Davin Equiom's Client Services Director added: 'The growth in the Isle of Man e-Gaming sector, and our increasing involvement, has resulted in the requirement for Equiom to form a dedicated team to service this important part of the Island's economy. Kerry's and Paul's appointments bring a wealth of experience to the team and will ensure that we continue to be the market leader in the provision of corporate services from the Isle of Man to the e-Gaming business.'
###