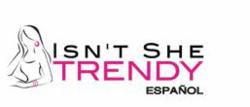 FORT LEE, New Jersey, (PRWEB) January 31, 2013
Marble Media LLC this week launched IsntSheTrendy.com Español, an online guide to the chicest trends that can be accessed via smart phone or tablet for on-the-go fashion advice.
IsntSheTrendy.com Español offers all the same advice, fashion updates and product updates for the busy woman who could occasionally needs a helping hand choosing what to wear, and what not to wear to any occasion.
MarbleMediaLLC.com's in-house fashion experts offer daily updates and break their trendy advice down to four categories – Beauty, Fashion, News, and Shopping – for one-stop fashion and style recommendations.
IsntSheTrendy.com Español readers get news and information on fashion trends for every occasion, including short, informational articles that focus on a number of fashion dilemmas – choosing the perfect jeans, finding the right shade of lipstick, and where to shop for the best vintage jewelry with a modern edge. Marble Media LLC's fashion editors remain on top of trends and maintain a steady stream of new beauty, fashion and shopping tips to keep the site fresh and new.
Readers can view the latest styles from Ralph Lauren and Marc Jacobs, and find day-to-evening smoky eye makeup techniques and the products they need to perfect them.
IsntSheTrendy.com adds new articles and tips daily, offering readers plenty of reasons to keep coming back for more.
For more information, visit the IsntSheTrendy.com Español website or email info(at)IsntSheTrendy(dot)com.
About Marble Media LLC:
Marble Media LLC is a creator of high-quality, content-rich blog sites that provide expansive coverage of relevant information to readers who make up a wide range of demographics. The Marble Media LLC team of expert writers covers a wide range of specialties including travel, food, health, fitness, social media, marriage, parenting, technology, weight loss, fashion and much more.
For more information on Marble Media LLC's offerings and advertising opportunities, visit the MarbleMediaLLC.com website, or email sales(at)marblemedia(dot)com.