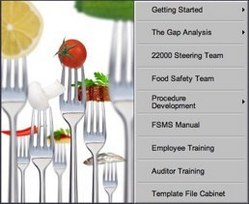 Our hands-on experience has allowed us to design and develop a comprehensive package of tools to assist you in training for and implementing your Food Safety Management System
Eden Prairie, MN (Vocus) November 18, 2010
22000 Certification is the new, globally recognized certification that ensures that food suppliers are in compliance with the requirements of an effective, standardized food safety system. This certification now provides peace of mind for suppliers, retailers, and consumers world-wide, as it ensures the integrity and safety of food products throughout each link in the food chain. The documented internal food safety processes that are required to receive this certification provide a systematic, proactive, ongoing approach to food safety that ensures that the highest possible food safety standards are met.
Vinca, LLC developed 22000 Project Manager using the knowledge and experience gained by implementing, documenting and auditing Food Quality Management Systems over the last fifteen years. Vinca's training and documentation tools, including 22000 Project Manager, are in use worldwide. "Our hands-on experience has allowed us to design and develop a comprehensive package of tools to assist you in training for and implementing your Food Safety Management System" according to Cynthia. "Our clients also really appreciate the convenience and flexibility of our online training and management package."
She explains that their exclusive 22000 Project Manager system operates as a personal website for the client, and outlines the management system step-by-step, from start to finish, providing all of the training, guidance, tools and documentation needed to implement and maintain all requirements for 22000 Certification. Users appreciate the ease of use. In the words of the customer "I have found the information very pleasing in that it is clearly understood, set out in a very computer friendly manner as the various fields flow nicely into each other helping one to understand the organization that ISO 22000 requires before the implementation."
Achieving this certification allows a food related business to sell product to the growing number of major national and international manufacturers and retail chains that require this 22000 Certification. It also ensures food safety for your consumers, and will reduce the risks associated with costly food recalls. The food safety processes that are required to receive certification provide a systematic, proactive, ongoing approach to food safety that ensures that the highest food safety standards are met and maintained. 22000 Certification is for all companies with services and products that are involved in the food supply chain including: feed production, food manufacturing, food ingredients, transportation of food, packaging or selling food (retail or wholesale), serving prepared food (restaurants, grocery stores), and food equipment production.
You can learn more about 22000 Project Manager online at http://www.22000-tools.com and also view a demonstration of how the system works. If you'd like further information, Cynthia Weber can be reached at 952-479-0250.
###