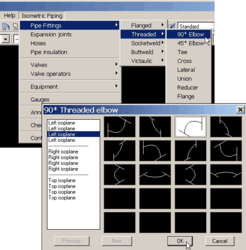 The beauty of this ISO library is there's nothing to learn. The library contains thumbnail previews of each block for instant access
Bend, OR (PRWEB) December 26, 2012
SimpleCAD introduces Isometric Piping Block Library for 2013. The newly revised Isometric Blocks (also called symbols or small CAD drawings ) are now compatible with both AutoCAD® 2013, AutoCAD® LT 2013 versions and earlier CAD versions.
The isometric (ISO) piping blocks are available in different viewing angles which include left, right and top. The block library contains over 800 pipe fitting symbols all organized into different categories.
Categories include:
-- Flanged
-- Buttweld
-- Socket
-- Threaded
-- Victaulic
SimpleCAD Director Erik Z. says "The beauty of this ISO library is there's nothing to learn. The library contains thumbnail previews of each block for instant access".
The compete isometric library integrates into a menu located in the top menu bar inside AutoCAD®. CAD users select a pull-down and choose the appropriate isometric symbols from a dialog box, then insert and rotate then into the drawing window.
Erik Z. continues "There are over 800 pipe fitting symbols all organized into different categories. Users will find draw very efficiently because everything is auto-organized for the CAD professional".
Most all symbols are drawn in left, right and top isoplane views
ISO Pipe fittings include:
-- Flanged, threaded, socket
-- Buttweld & Victaulic
-- 90° & 45° elbows
-- 45° laterals
-- Tees
-- Crosses
-- Reducers
-- Unions
-- Caps
Other ISO blocks include:
-- Weldolets and thredolets
-- Valves
-- Valve operators
-- Expansion joints & hoses
-- Pipe insulation
-- Pumps and Tanks
-- Safety showers
-- Pressure gauges
-- Annotation
A trial download is also available and immediate delivery is both electronic and by mail if requested. SimpleCAD also announced they are currently offering a coupon code scad10off to save 10% on the library.
A demo is available at SimpleCAD.com by calling 877-933-3929
They can also be reached by email at: mail(at)simplecad(dot)(com)
About SimpleCAD:
Since 1983 SimpleCAD been actively serving the CAD industry. Since this time they have offer various CAD solutions and symbol libraries for various industries. Samples of this software and other CAD blocks are available upon request.