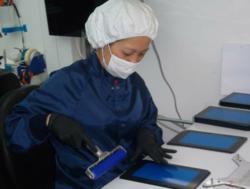 Obtaining the ISO certification is an important step in maintaining product quality and reliability
Austin, TX (PRWEB) December 07, 2011
Global touch screen manufacturer, Touch International, announced today that its manufacturing facility in Shenzhen, China has been awarded the ISO 9001:2008 certification for international quality management standards.
"Obtaining the ISO certification is an important step in maintaining product quality and reliability," explains Ali Kavoossi, Touch International Vice President of Global Quality Engineering. "By maintaining a strong quality management system, we can achieve operational efficiencies that translate into improving processes, reducing costs, exceeding customer requirements, and insuring customer satisfaction."
Opened in May 2011, the 50,000 ft.² factory features a vertically integrated manufacturing system equipped with cover glass, touch screen, and LCD-to-touchscreen module (LCM) assembly sections that complement its high-volume projected capacitive and resistive touch screen segments.
Engineered to support the company's Austin-based R&D and specialty-build design house, the Shenzhen facility gives Touch International greater production capacity while lowering prices on the quality touch products that customers need.
About Touch International
Global touch screen manufacturer, Touch International, was founded in 2002 by Michael Woolstrum and long-time veteran, Gary L. Barrett. Headquartered in Austin, Texas, Touch International is a world leader in touch screen and EMI filter technology. The company, with its partner DMC, Co. Ltd. in Osaka, Japan, operates seven manufacturing facilities worldwide with 1,200 employees. Touch International's factories manufacture Apple iPhone-type projected capacitive touch screens, resistive sensors and glass filter products used in touch screens, EMI, anti-reflective and anti-vandal filters.
###