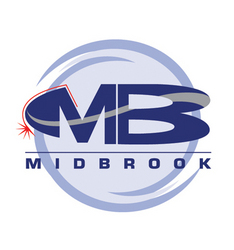 ISO-13485:2003 enhances product safety by helping us proactively detect and prevent errors
Jackson, MI (Vocus) February 19, 2010
On February 4th, 2010, Midbrook, a Jackson, MI based manufacturer of medical decontamination systems, industrial parts washing systems, and water bottling systems received its Certificate of Registration for ISO-13485:2003 Medical Devices from NSF International Strategic Registrations. This was the result of a successful registration audit conducted at Midbrook's facility the previous month. ISO-13485:2003 is the seventh certificate of registration that Midbrook has received since 1998.
The Certificate of Registration for ISO-13485:2003 is an important step forward with regards to Midbrook's continuing efforts in the medical field. While similar to ISO-9001:2008, which Midbrook had previously obtained, ISO-13485:2003 features some differences that are expected to illustrate Midbrook's commitment to the medical industry.
ISO-13485:2003 highlights the ability of a business to meet regulatory and customer requirements, with an emphasis on risk management and the maintenance of effective processes, specifically the process related to the safe design, manufacture, and distribution of medical devices. This differs from the ISO-9001:2008 emphases on continual improvement and customer satisfaction.
By obtaining ISO-13485:2003 certification in addition to ISO-9001:2008, Midbrook has shown a dedication to providing safe medical devices that will not only protect patients, but also satisfy customers. "ISO-13485:2003 enhances product safety by helping us proactively detect and prevent errors," said Midbrook Quality Manager Paul Hutchison.
Also, this certification aligns Midbrook's management system to the guidelines of the FDA's Quality System Regulation (QSR) requirements, as well as many other regulatory requirements found throughout the world. In this sense, ISO-13485:2003 certification is a first step toward selling medical devices to a larger market. "One of the main benefits of this certification is increased market access due to improved compliance with legal and regulatory requirements," said Hutchison.
Midbrook is the minority owned, world leading provider of process specific, high volume aqueous part cleaning systems, sealed solvent cleaning systems, water bottling equipment, and medical decontamination equipment. Along with washers for medical tools and equipment, Midbrook offers custom fabrication of medical equipment in both stainless steel and antimicrobial copper.
For more information about Midbrook and its ISO-13485:2003 certification, visit http://www.midbrook.com or call 1-517-787-3481.
###