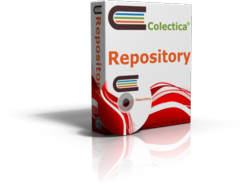 Colectica Repository allows metadata management with Oracle databases
Minneapolis, MN (PRWEB) December 31, 2012
Colectica, a trusted leader in metadata management and data documentation, today announced upcoming support for Oracle Database 11g for the Colectica Repository system.
Customers can now leverage Colectica Repository to run real-time transactional and analytical applications with Oracle Database 11g. Colectica customers using the Oracle In-Memory Database Cache can also accelerate response time for performance critical repository operations.
Able to scale both out and up, Colectica Repository's flexible and high-throughput architecture can run both distributed and memory-intensive metadata registry operations against an Oracle database. Colectica Repository efficiently scales-out when multiple clients or Colectica Portal users demand blazing fast response times, making it an ideal platform for managing ISO 11179 conforming metadata registries in enterprise environments.
"Colectica Repository integrates into with our clients IT environments to provide centralized metadata storage, conformant to ISO 11179." said Dan Smith, a Partner at Colectica. "We are happy to now support integration with Oracle to allow our customers greater choice when deploying their Colectica metadata registries."
Oracle support will be available in the upcoming Colectica 4.1 maintenance release, scheduled for release in early 2013. Community Technology Previews of the new release of Colectica are available to current customers and evaluators. In addition to the new support for Oracle, Colectica Repository supports Microsoft SQL Server and PostgreSQL for deployment and additionally SQLite for test and development.
Additional software tools from Colectica enable documenting of data, data collection, variables, and datasets. Colectica Repository manages changes to the recorded metadata information and allows multiple people and groups to work together on a shared central system. Colectica Portal allows for publication of this recorded information on the intranet or web. All of these products use Open Standards to allow for interoperability with other tools. Colectica products, training on Open Standards, and customized software solutions are available through http://www.colectica.com.
About Colectica
Launched in 2010, Colectica® is the fastest way to design, document, and publish statistical research using Open Data standards. The Colectica Platform is an ideal solution for statistical agencies, survey research groups, public opinion research, data archivists, and other data centric collection operations that are looking to increase the expressiveness and longevity of the data collected through standards based metadata documentation. The company offers a range of highly specific products and services designed to give power to people through easy integration and access to data.
Trademark
Colectica is a registered trademark of Colectica and/or its affiliates. Other names may be trademarks of their respective owners.
###