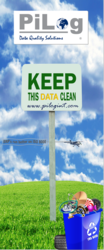 Communicate Better With ISO 8000 Quality Data!
Bethlehem, PA (PRWEB) June 27, 2011
PiLog USA announced today its ISO 8000 data quality training program in support of the ECCMA ISO 8000-110 Master Data Quality Manger certification program. The training program is conducted on-line and consists of a four hour interactive webinar followed by a guided exercise in the practical application of ISO 8000 to improve data quality.
Designed as an introductory course accessible to those in either business or technical sectors, the course focuses on the fundamental characteristics of data and how these are used to reliably and objectively measure data quality. Beyond the theory, the course uses advanced and easy to use commercial data quality solutions software that allows the participants to gain practical experience in what it takes to create and manage an ISO 8000 data quality program in their own company.
ISO 8000 is the new international standard for data quality; whereas ISO 9001 can be successfully used to look at data as a product of a process and evaluates the level to which the process is documented and executed, ISO 8000 looks at the data itself. ISO 8000 evaluates the quality of the data by looking at the syntax, semantic encoding and the degree to which the data meets stated requirements. The course teaches how to document requirements for data and how to evaluate existing data requirements typically found in electronic or printed forms used to capture data as well as the data found in reports. The immediate outcome of the course is a better understanding of what it takes to obtain, create and manage quality data.
The course is priced at $500 per person and covers the requirements for ECCMA certification as an ECCMA Certified ISO 8000-110 Master Data Quality Manger.
There is an additional fee payable to ECCMA for certification. The ECCMA certification process requires that the applicant demonstrate (1) the successful completion of a course delivered by an ECCMA certified instructor and verified by the completion of the ECCMA ISO 8000 knowledge test and (2) the submission of three sample files consisting of a completed data requirement statement, a completed request for characteristic data and a completed reply to a request for characteristic data; these three files are automatically created by the PiLog Data Quality Solutions application used as part of the training program.
EDITORS NOTES:
The Electronic Commerce Code Management Association (ECCMA) is an international not for profit membership association focused on the development and implementation of international standards for data quality. ECCMA is the project leader for ISO 8000 (data quality) and ISO 22745 (exchange of characteristic data). ECCMA manages a repository of data requirements (the ECCMA Data Requirement Registry – eDRR) where all data requirements are encoded using the same concept dictionary (the ECCMA Open Technical Dictionary – eOTD). The eOTD contains concepts and associated multilingual terminology and serves as a common public repository where each concept and each term, definition or image that explains a concept is given a public domain identifier. These identifiers are used to create language independent portable data and to map concepts between applications, lowering the cost of data integration and data migration.
PiLog is a group of international companies headquartered in Pretoria, South Africa with regional offices in the USA, Russia and Middle East supporting international customers in defense, oil and gas, electronics, transportation, mining, power generation, manufacturing and processing as well as utilities. PiLog provides data quality solutions ranging from data quality training and consultancy to data cleansing and the creation and management of ISO 8000-120 compliant data warehouses. These ISO 8000-120 data warehouses act as central repositories of authoritative data with full provenance. They include multilingual dictionaries and data requirements that allow the quality of the data to be monitored in real time and they ensure that authoritative data is accessible and transferable to any application avoiding application lock-in. PiLog also specializes in the development of multilingual dictionaries with rendering rules that allow the generation of multiple and multilingual ERP descriptions from the same data source.
###