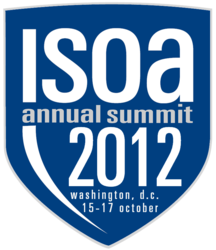 Washington, DC (PRWEB) May 29, 2012
The International Stability Operations Association is pleased to announce that Ambassador David C. Litt (ret.) will Chair the 2012 ISOA Annual Summit taking place at the National Press Club in Washington, D.C. on 15-17 October 2012.
Ambassador Litt served for 34 years as a career U.S. diplomat, specializing in the Middle East and Southwest Asia. Ambassador Litt entered the Foreign Service in 1974 and served as the U.S. Ambassador to the United Arab Emirates (1995-1998) and as Consul General in Dubai ten years prior amongst other assignments.
Ambassador Litt received the Secretary of Defense Meritorious Civilian Service Award in 2004 and U.S. SOCOM's Civilian Award for Outstanding Service in 2002. He also received the State Department's Superior Honor Award in 2002 and 2004 for his work with the U.S. military, and in 2000 for his proposals to improve strategic planning at the Department of State. In addition, he earned a Superior Honor Award for his service as Ambassador to the UAE, and the Meritorious Honor Award as DCM in Niger.
Currently, Ambassador Litt is the Executive Director of the Center for Stabilization and Economic Reconstruction, of the Institute for Defense and Business.
Further details of the 2012 ISOA Annual Summit are available at http://www.stability-operations.org/summit2012
For sponsorship and exhibition information, please contact Jason Kennedy at JKennedy(at)stability-operations(dot)org.
For event and registration information, please contact Jessica Vogel at JVogel(at)stability-operations(dot)org.
About the ISOA Annual Summit
The ISOA Annual Summit is the premier annual event of the stability operations community. Over two days, attendees participate in open dialogue on trends, challenges and tools for success in their work towards stability, peace and development in fragile environments worldwide. Partners across the private, nongovernmental, academic and government sectors are invited to share their experiences and knowledge at this unique event.
About ISOA
ISOA is the international trade association of the stability operations industry, promoting ethics and standards worldwide and advocating for effective utilization of private sector services. ISOA members are leaders in the industry and are supported by ISOA's outreach, education and government affairs initiatives.