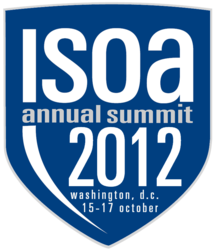 Washington, DC (PRWEB) July 11, 2012
The International Stability Operations Association opened early bird registration for its 2012 ISOA Annual Summit at the National Press Club in Washington, D.C. on 15-17 October 2012. The two and a half day event will include prominent guest speakers, panel discussions on topics relevant to the stability operations community, networking opportunities, a summit dinner, and an exhibition.
The full agenda and registration details are available on the event website at
http://www.stability-operations.org/summit2012
Former Ambassador David Litt will chair the event. This year, the Summit will follow 2 separate tracks, tailored toward different type of attendees: a track focused on "Policy & Strategy" and a track focused on "New Realities & Demand."
For sponsorship and exhibition information, please contact Jason Kennedy at JKennedy(at)stability-operations(dot)org.
For event and registration information, please contact Jessica Vogel at JVogel(at)stability-operations(dot)org.
About the ISOA Annual Summit
The ISOA Annual Summit is the premier annual event of the stability operations community. Over two days, attendees participate in open dialogue on trends, challenges and tools for success in their work towards stability, peace and development in fragile environments worldwide. Partners across the private, nongovernmental, academic and government sectors are invited to share their experiences and knowledge at this unique event.
About ISOA
ISOA is the international trade association of the stability operations industry, promoting ethics and standards worldwide and advocating for effective utilization of private sector services. ISOA members are leaders in the industry and are supported by ISOA's outreach, education and government affairs initiatives.