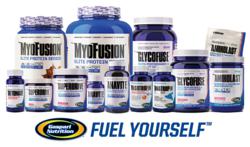 "As Gaspari Nutrition grows globally, it's great that our hard work is recognizable to the supplement business community at large" said CEO Rich Gaspari.
(PRWEB) April 03, 2013
Gaspari Nutrition®, a globally distributed sport nutrition company, was showcased in the March 2013 issue of Nutrition Business Journal, a highly-regarded publication in the sports nutrition field. The article initially focused on Gaspari's brand diversification, before featuring the success of its Myofusion protein series.
Initially, Gaspari Nutrition's target market was bodybuilders, largely due to CEO Rich Gaspari's roots as a professional himself. Rich's hands-on approach and visibility have given the brand credibility within the bodybuilding community. Now, the brand has expanded to target consumers looking to build a more athletic, functional physique. With that comes the sponsorship of mixed martial artists like Frankie Edgar and Romulo Barral along with Crossfit athletes like Libby DiBiase. More and more health information is readily available to the public, and society is beginning to understand the importance of living a healthy lifestyle. As a result, Gaspari has made a shift to accommodate a larger audience.
"As Gaspari Nutrition grows globally, it's great that our hard work is recognizable to the supplement business community at large" said CEO Rich Gaspari.
The average consumer, health conscious or not, is probably aware of the importance of protein in one's diet. Therefore, protein powders are one of, if not the most popular supplements in the sports nutrition industry. To find the backbone of Gaspari Nutrition's success, look no further than its Myofusion protein series. Myofusion's high protein, great tasting formula has translated into consistent customer loyalty throughout the years.
Gaspari Nutrition finds a way to remain in the spotlight. Recently, they switched their product line's packaging to a new, white design. Rich Gaspari received the Arnold Schwarzeneggar Lifetime Achievement Award at this year's Arnold Classic. They have also released two new products, Superdrive - Pre-Training Energy Superfuel and IsoFusion – Premium Whey Isolate.
About Gaspari Nutrition®
Gaspari Nutrition is headquartered in Lakewood, NJ and is a rapidly expanding, healthy lifestyle sports company that develops and distributes a full line of nutritional supplements. Gaspari's propriety and award winning products address all categories of an active lifestyle including muscle building, weight loss, and general fitness through a daily nutritional supplement regimen. They are one of the few companies to sponsor independent, 3rd party research on their products to prove their efficacy. Gaspari Nutrition is sold in over 85 countries, including over 85 Popeye's locations in Canada, and available in over 5,000 US retail outlets that include GNC, Vitamin Shoppe, and Kroger, as well as over 100 online stores, including Bodybuilding.com, Amazon, DrugStore.com, and SupplementsCanada.com. For more information, please visit http://www.GaspariNutrition.com.