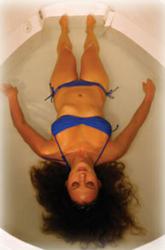 "We're experiencing a major rebirth of interest in floatation therapy."
Gothenburg, Sweden (PRWEB) May 22, 2012
International scientific and business experts discussed the benefits of floatation therapy at a recent conference hosted by Floatation International and the Swedish Floatation Association. Participants listened with enthusiasm as representatives from the Nordic nation talked about their efforts towards making floatation therapy a medical treatment covered by Sweden's national health insurance program.
"We now have over 120 floatation centers here in Sweden", says Catharina Jakobsson, Director of the Swedish Floatation Association. "This would not have been possible without the important scientific and medical research completed during the past decade". Dozens of clinical experiments were conducted at the large universities in Kalmar and Karlstad, and researchers from both institutions spoke at the conference.
Scientific research into "floating" began in the 1950s at the US National Institutes of Health with the pioneering work of the American physician Dr. John C. Lilly. Isolation tanks (also known as floatation tanks and sensory deprivation tanks) were first produced commercially in the 1970s in the United States and surged in popularity during the 1980s. This was also the peak of earlier scientific research into Floatation REST (Restricted Environmental Stimulation Therapy), a clinical term which highlights the float tank's ability to shield users from the daily stresses of light, noise, movement and even gravity.
"We're experiencing a major rebirth of interest in floatation therapy", stated Mark Frickel, founder of Floatation International and the conference's coordinator. According to his company's website there are now over 25 manufacturers of float tanks and rooms, with commercial units located in over 500 public float centers and in dozens of countries. On top of that, Mr. Frickel estimates that hundreds or even thousands of tanks are located in private homes for personal use.
Based on the scientific evidence and instant appeal to customers, many entrepreneurs are rushing to enter the float spa business. An hour-long session in the float tank is an ideal service for medical practitioners and non-practitioners alike to offer clients seeking a safe, non-invasive treatment for everything from stress relief to pain management.
For many in the industry, owning a float spa is all about helping other people. Tina Graham, a participant from the United Kingdom who suffers from fibromyalgia (FM), stood to speak after listening to Dr. Roderick Borrie and Dr. Tamara Russell report additional findings from a fibromyalgia study conducted last year. Ms. Graham said she was incredibly impressed by what floatation did for her and confirmed the testimonies of patients in the study. She plans to open a float center of her own and focus on clients with physical pain problems.
About Float Summit Conferences and Floatation Therapy research
Float Summit 2012 was co-organized by Floatation International and the Swedish Floatation Association, with sponsorship provided by the German Floatation Association and float tank manufacturers Float Concepts (Germany), i-sopod (UK) and Restingwell (Sweden).
For more information, please visit http://floatsummit.net, http://floatingforbundet.se and http://floatation.biz. For all inquiries, please send an e-mail to info@floatsummit.net, or call Mark Frickel at +00 1 707 653 5628.